It can be an embarrassing situation, being afraid to smile because of your missing teeth. Whether it was from an accident, a disease, or other means, gaps in your smile can often lead to a lack of confidence, anti-socializing, or in some cases even depression. Traditional dental implants are often the solution to not only fill the gap in your smile, but also improve your oral health and restore that confidence. However, Teeth Next Day® offers the same benefits with the added bonus of having a brand new smile within one day after implant surgery, hence the name, Teeth Next Day. If you're missing multiple teeth, have advancing periodontal disease, are suffering with failing dental work and are tired or using dentures or other means to fill the void, then look to Teeth Next Day for a quick restorative solution that in most cases will last a lifetime.

VIDEO: SAME DAY DENTAL IMPLANTS
Dr. Ajmo and Teeth Next Day are the best choice for same day dental implants. Immediate load implants can take months off of the time between your procedure and your new smile. Dr. Ajmo will carefully plan your procedure so that your new implants will be able to support restorations on the day after placement.
Two-Step Process
As the name suggests, you can receive your Teeth Next Day implant bridge as soon as the next day. It's fast and convenient for busy patients without sacrificing the benefits that dental implants can bring. The first step is always the consultation, where Dr. Ajmo will determine if Teeth Next Day implants are the best route for you and your oral health. Using the latest in 3D imaging and CAD/CAM milling, Dr. Ajmo and his seasoned team can place the implant bridge precisely in your mouth, using up to six implants as anchors instead of an individual anchor for each missing tooth. If a bone or gum graft is needed to support the implant, most often it can be done at the same time to reduce time spent in the dental chair. Any supplemental procedures will be discussed with Dr. Ajmo before treatment begins.
As soon as you're ready for the Teeth Next Day implant bridge, Dr. Ajmo and our experienced staff carefully mold your permanent bridge to look and feel as natural as your surrounding teeth. Each permanent Teeth Next Day implant bridge is crafted from Prettau® zirconia, a marvelously resistant material that is the most durable and long-lasting material out there for tooth replacements.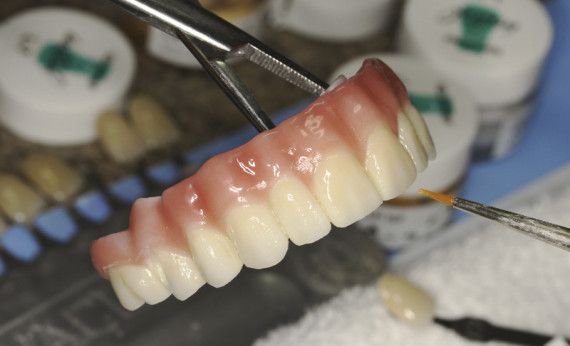 TEETH NEXT DAY
Lenny was extremely fearful of the dentist and suffered with advanced periodontal disease. All of his teeth were loose adn he knew his periodontal disease was directly linked to heart disease, but he kept it secret so he wouldn't have to address the problem. His wife encouraged him to finally go to the dentist, so he researched online and found Dr. Ajmo. Watch the video above to learn more.
In addition, the zirconia is also resistant to cracks, chips, and stains, keeping your smile looking bright, white and untarnished. The zirconia material also ensures that you have the same bite strength that you're used to. Studies have shown that dentures and dental bridges provide about the half of the usual bite pressure of an adult with the full set of natural teeth. Due to the genuine strength if the implant and the zirconia material combined, it ensures that you can still enjoy your favorite foods with impunity.

Find Out if Teeth Next Day is Right for You
If you're missing one or more teeth, or are considering trading in your dentures or dental bridges for a more permanent solution, contact us today at the PGA Dentistry. One of our professional staff members will schedule you for a complimentary consultation with Dr. Ajmo, where he can help determine if Teeth Next Day is right for you. Our office is located in Palm Beach Gardens, FL, serving patients in Palm Beach Gardens and beyond.
RECENT BLOG POSTS
Categories:
Osseointegration, Dental Implants
Author:
Date:
2015-06-26
We get many questions about the reason it can take up to a few months for dental implants to heal.  Though there are full mouth procedures where you can leave with a brand new smile in one day (Teeth Next Day), many times the implantation of one or a few dental implants must "osseointegrate" with your jaw.  Osseointegration is the fusing of the implant with your jaw bone.
OFFICE HOURS
Monday-Friday 8am - 5pm
Please feel free to give us a call or stop by anytime if you have a question or would like to schedule an appointment.
PGA Dentistry
Palm Beach Gardens Office
7100 Fairway Dr Ste 59
Palm Beach Gardens, FL 33418