The pursuit for that perfect smile can be fraught with questions. Even more so if you're investigating dental implant procedures. At PGA Dentistry, we hope to relieve some of that anxiety by listing some of more common questions we've encountered with our patients.
What is Teeth Next Day®?
Teeth Next Day is an accelerated dental implant procedure that can replace multiple missing teeth with just one surgery and then immediately attaching teeth in one day. To replace multiple teeth, up to six implants are embedded in the jawbone, followed by implant attachments that anchor and hold up to a whole row of teeth. Essentially, Teeth Next Day can replace missing teeth without needing to undergo multiple implant surgeries. In addition, this process can be completed in one day, hence the name Teeth Next Day.

Where can I get Teeth Next Day® dental implants?
Teeth Next Day
is exclusively offered at
PGA Dentistry
! Dr. Ajmo is the only dental implant surgeon in South Florida that can perform the advanced procedure called Teeth Next Day. We have a specialized lab here in our office where we construct the Teeth Next Day implant and craft it to your uniqueness. Having undergone extensive training and keeping up to date with the latest procedural techniques,
Dr. Ajmo
is well-experienced in this type of dental implant treatment. We have a host of satisfied patients, as well as a Before-and-After gallery to peruse at your leisure.
PRETTTAU ZIRCONIA DENTAL IMPLANTS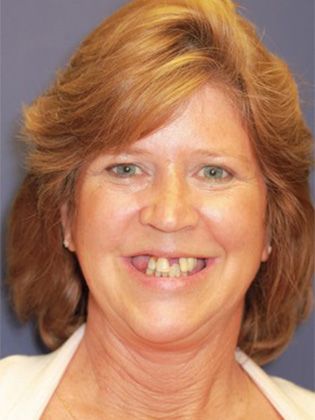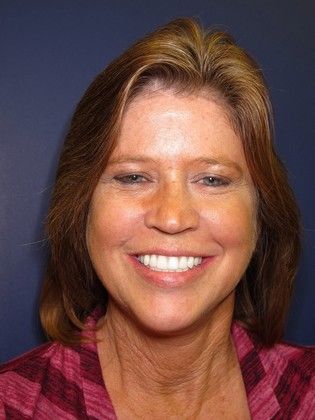 Michelle suffered with very poor dental health. Her fear of the dentist caused her to avoid going to the dentist all of her adult life. None of her remaining natural teeth were able to be salvaged. Michelle underwent full mouth reconstruction with dental implants and Prettau Zirconia bridgework.
What is the difference between dental implants and Teeth Next Day?
The major difference between the two types of tooth replacement procedures lies in the timeline and final product. For traditional dental implants, and depending on the number of implants you need, the process and osseointegration can take anywhere from four to six months. Not all patients have the luxury of that many visits, and so may opt for Teeth Next Day for a process that lasts two days or less. In terms of appearance, dental implants are individual implants that are embedded in the jawbone and support only one implant. With Teeth Next Day, multiple teeth can be replaced with one large implant anchor. The weight of the large implant is distributed over four to six implants instead of one for each tooth.
Am I a candidate for Teeth Next Day?
Teeth Next Day is recommended for patients who are missing one or more teeth or are struggling with dentures and dental bridges. They're a permanent, long-lasting solution to give you that bright, beautiful smile you've always wanted. It's also recommended that you have good oral health. If you are currently experiencing a periodontal disease, discuss it with
Dr. Ajmo
at your consultation to see if any supplemental procedures are needed. It's also expected that patients have sufficient bone or gum growth to support the Teeth Next Day. In the case where that growth may be lacking, Dr. Ajmo may recommend a gum or bone graft be performed. The bone or gum graft can often be done before the surgery, or even during the surgery along with the implant placement.
Trust Your Smile to a Board Certified Dental Implant Dentist!
VIDEO: SOLVING DENTAL ANXIETY
The key to solving dental anxiety lies in the approach to treatment. By using IV sedation, our patients are able to relax throughout the course of their procedures. This technique is indicated for patients who suffer from dental phobia and anxiety, as well as those who are undergoing extensive treatments.

What if I have dental anxiety?
During the Teeth Next Day procedure itself, Dr. Ajmo will administer IV sedation. With IV sedation, you can relax in the chair and won't be able to recall the procedure. Dr. Ajmo can adjust the concentration through the IV to ensure that you remain calm and relaxed through the procedure.
More Questions? Contact Us
Now that you've read through some common questions we get asked, let us know if you have any additional questions regarding the answers above or anything that was not addressed here. You can contact us at our Palm Beach Gardens, FL office, where one of our helpful staff will be available to take your question. If interested in Teeth Next Day dental implants, contact us today to schedule a complimentary consultation with Dr. Ajmo to determine if Teeth Next Day is right for you.
RECENT BLOG POSTS
Categories:
Dental Implants, Bone Graft
Author:
Date:
2015-05-11
Sometimes our patients have lost many teeth and waited quite some time to place dental implants.  Without your natural teeth, or implants in place, your jaw bone can begin to deteriorate.  This leads to the face having a "sunken" appearance.  For these patients it is necessary for Dr. Ajmo to perform a bone graft in order to create enough bone in the jaw for the implants to fuse with.  Learn more about bone grafts in today's blog article.
OFFICE HOURS
Monday-Friday 8am - 5pm
Please feel free to give us a call or stop by anytime if you have a question or would like to schedule an appointment.
PGA Dentistry
Palm Beach Gardens Office
7100 Fairway Dr Ste 59
Palm Beach Gardens, FL 33418