Many of our patients in Palm Beach Gardens, FL with one or more missing teeth have investigated dental implants as possible tooth restoration. What makes some of them hesitant is the process itself. Depending on the number of implants needed, the process can take up to anywhere from four to six months. While this may have been an inconvenience at one time, now Dr. Ajmo and PGA Dentistry is proud to offer Teeth Next Day® – a full range of dental implants that you can receive within two days instead of several months.

With our busy lives, many of our patients have found Teeth Next Day to be very advantageous. The reason for the long process with traditional implants is the process of osseointegration – the fusion of the implant to the bone. For patients with multiple missing teeth, or who are currently using dentures or dental bridges, the many implants they would need could prolong the process.

Teeth Next Day Timeline
Once you have considered if Teeth Next Day could be right for you, contact us to schedule a visit with Dr. Ajmo. During this complimentary consultation, Dr. Ajmo will examine your oral health, discuss options and ultimately help you decide if Teeth Next Day is right for you.
If the green light is given, then all that's left is to schedule a date that's convenient for you and follow any pre-operative instructions. Dr. Ajmo designs the implant using zirconia, the absolute best, long-lasting material available for dental procedures. Zirconia is resistant to chipping, staining, or cracking, unlike many other common materials such as acrylics. We create your implant right here in our exclusive lab, making sure that your implant looks and feels just as natural as your other teeth. Once they're ready, Dr. Ajmo will attach the implant to your jaw via a series of dental implants – for example if missing a row of teeth in your upper jaw, up to six implants will be inserted that will anchor the entire Teeth Next Day bridge, instead of individual implants for each tooth. For those who are anxious about surgical procedures, the Teeth Next Day surgery is done with IV sedation, administered by at the practice.
VIDEO: BEN'S TESTIMONY
Ben, one of our patients, discusses his full mouth reconstruction dental implants experience at our Palm Beach Gardens practice.
Teeth Next Day's Genuine Appearance
Unlike dentures or dental bridges, Teeth Next Day implants are permanent, just like traditional dental implants. There's virtually no risk of the zirconia implant becoming loose or detached, so you can talk and eat with confidence once more. The goal of Teeth Next Day is to look and feel just like your natural teeth, with all the normal bite strength and oral health that comes with it. Teeth Next Day are also guaranteed to last for a lifetime. Dentures and dental bridges eventually need replacing every few years due to general wear and tear. Since they are permanent fixtures and also made of durable zirconia, they can endure much more and last longer. Each implant is also crafted with care and hand-stained by our staff at PGA Dentistry, lending to the genuine appearance.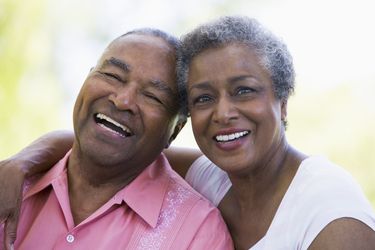 Contact Us for Teeth Next Day
If you have multiple missing teeth or you're getting frustrated with your dentures and dental bridges, then contact us at PGA Dentistry. Conveniently located in Palm Beach Gardens, FL, we offer a complimentary consultation to those interested in venturing into Teeth Next Day. Dr. Ajmo will gladly sit down with you and discuss the benefits of Teeth Next Day, details about the process, cost and financing, and more. Contact us today for your complimentary consultation!
RECENT BLOG POSTS
Categories:
Osseointegration, Dental Implants
Author:
Date:
2015-06-26
We get many questions about the reason it can take up to a few months for dental implants to heal.  Though there are full mouth procedures where you can leave with a brand new smile in one day (Teeth Next Day), many times the implantation of one or a few dental implants must "osseointegrate" with your jaw.  Osseointegration is the fusing of the implant with your jaw bone.
OFFICE HOURS
Monday-Friday 8am - 5pm
Please feel free to give us a call or stop by anytime if you have a question or would like to schedule an appointment.
PGA Dentistry
Palm Beach Gardens Office
7100 Fairway Dr Ste 59
Palm Beach Gardens, FL 33418