VIDEO: THE PRETTAU® BRIDGE
Dr. Ajmo provides the Prettau® Bridge, one of today's most advanced partial dentures, at his Palm Beach Gardens practice.

If you have been suffering with bad teeth or major dental problems, have failing teeth, failing dental work, missing teeth or are wearing removable complete dentures, you may have been wondering what to do to improve your ability to chew food comfortably, speak clearly and smile again with confidence. The PRETTAU® Zirconia Implant Bridge may just be the solution you've been looking for!
No Cracking, Chipping or Staining Like Acrylic.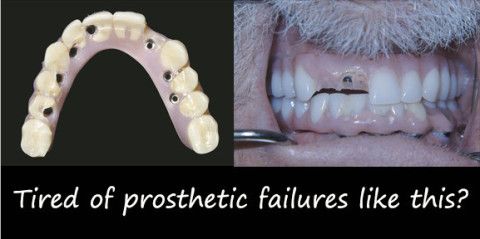 If you are looking for the most esthetic and durable, permanently attached implant supported teeth replacement option, the PRETTAU® Zirconia Implant Bridge is the clear choice! Dr. Ajmo is offering a complementary consultation at PGA Dentistry located in Palm Beach Gardens. The PRETTAU® Bridge is made of Zirconia, the strongest tooth colored material used in modern implant dentistry. If you've been told that an acrylic hybrid bridge (a titanium metal bar covered with pink acrylic and plastic denture teeth) or a metal bar overdenture with plastic teeth are your only options, you should think again. "All-on-4" acrylic implants options can frequently chip, crack, stain and will definitely wear and discolor over time.
The PRETTAU® Bridge has so many advantages over every other tooth replacement option available today. PRETTAU® is made of Zirconia which is totally biocompatible with the human body, It's the strongest dental material available and is tooth colored, so the cosmetic results look totally natural and will last many years.

Dr. Jay Ajmo will custom design your PRETTAU® Implant Bridge to give you a long lasting beautiful smile that will make you look and feel younger and healthier. There's no metal to hide and no acrylic or plastic that can stain, crack, chip or break. The clear choice is to replace your teeth with the PRETTAU® Zirconia Bridge, not with acrylic.
The Latest Technology In Dental Implant Restoration
At PGA Dentistry, 3D CT Scans are used in the diagnosis and treatment planning for each patient we see for dental implant procedures. This technology allows us to precisely measure the amount of bone available and predictably plan where to place dental implants in your jaws to support your PRETTAU® Bridge. These 3D computerized images provide detailed views of facial structures that allow Dr. Ajmo to design your PRETTAU® Bridge around how your new teeth will fit in your mouth, so you'll have a smile that feels natural and looks healthy. With the PRETTAU® Zirconia Bridge, you'll eat what you want, speak clearly and smile with confidence.

The PRETTAU® Implant Bridge is specially fabricated for Dr. Ajmo by our award winning Dental Lab. Each PRETTAU® Bridge is custom designed and CAD/CAM milled out of solid white Zirconia. Fabrication is to the highest standards for precision fit, long term strength and extremely appealing esthetics. It is then artistically colored and refined by the hands of our master ceramists to give it life-like translucency, color and natural beauty. The final result is truly amazing, encompassing the most advanced technology that's available in dentistry today.This is the future of dentistry!

PGA Dentistry; The Only PRETTAU® Implant Bridge Treatment Center in South Florida and The Palm Beaches. Our practice is one of only a few dental facilities to bring this technology into the USA and the first office in South Florida and Palm Beach County offering it to their patients. Dr. Ajmo's vast experience in dental implant procedures and cosmetic full mouth reconstruction, supported by our dedicated implant team in our state of the art facility is why patient's travel to us from all over the USA on a regular basis. We are offering our patients the most naturally esthetic and predictable advancement in dental implant restoration; The PRETTAU® Zirconia Implant Bridge.
Stop the endless cycle of replacing failing dental work, painful root canals, large silver fillings, recurring gum disease, loose teeth and dental infections. The PRETTAU® Zirconia Bridge is a permanent teeth replacement option to replace failing teeth, failing dental work, missing teeth, or dentures. This is the future of dentistry and it's available now at PGA Dentistry!
Trust Your Smile To An Expert in Implant Dentistry
You'll feel confident knowing you have a doctor with the advanced skills and experience to properly perform your dental implant surgery and restore your mouth and your smile so you can look and feel your best. Dr. Ajmo has undergone years of post doctorate training in dental implant surgery and restoration by leading institutions in Dental Implantology . He has also undergone specialized training in The PRETTAU® Implant Bridge protocol and routinely performs these procedures for his patients with outstanding results. His goal is to provide his patients with the highest quality advanced dental implant care with their absolute satisfaction in mind.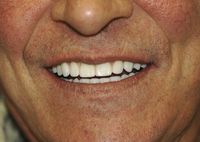 RECENT BLOG POSTS
Categories:
Osseointegration, Dental Implants
Author:
Date:
2015-06-26
We get many questions about the reason it can take up to a few months for dental implants to heal.  Though there are full mouth procedures where you can leave with a brand new smile in one day (Teeth Next Day), many times the implantation of one or a few dental implants must "osseointegrate" with your jaw.  Osseointegration is the fusing of the implant with your jaw bone.
OFFICE HOURS
Monday-Friday 8am - 5pm
Please feel free to give us a call or stop by anytime if you have a question or would like to schedule an appointment.
PGA Dentistry
Palm Beach Gardens Office
7100 Fairway Dr Ste 59
Palm Beach Gardens, FL 33418