For patients with missing teeth or a failing dental appliance, Teeth Next Day and the Prettau® Zirconia Implant Bridge is an optimal solution – in fact, it can be called the ultimate solution available in dentistry today! Remarkably, patients of Dr. Jay Ajmo can enjoy the benefits of this amazing restoration immediately with Teeth Next Day®, available at our Palm Beach Gardens practice.

You can have dental implants placed in Dr. Ajmo's All-in-One Implant Center, and leave the next day with a state-of-the-art temporary bridge restoration from Prettau®. An ill-fitting dental appliance or missing teeth can truly make life miserable. If you are experiencing this problem now, don't wait. Contact PGA Dentistry today.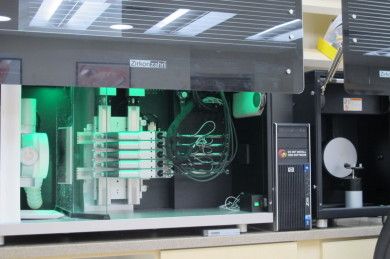 The best candidates for Teeth Next Day are those who are in need of it. If you have multiple missing teeth and disapprove of dentures, then Teeth Next Day would be great for you. Dr. Ajmo offers a complimentary consultation at PGA Dentistry here in Palm Beach Gardens, FL for any new or current patients interested in Teeth Next Day.
VIDEO: TEETH NEXT DAY®
Patients with failing teeth or bad dental work can have a new smile in a single day with Teeth Next Day® at PGA Dentistry. Dr. Ajmo performs extractions, places dental implants and attaches new teeth the same day. He uses zirconia, the strongest and most naturally aesthetic material available in dentistry, creating new teeth that will not chip, crack or stain, and can last a lifetime.
Teeth Next Day differs from traditional implants like a tortoise compared to the hare. While dental implants can take up to four to six months due to osseointegration, Teeth Next Day takes only two days at most. And yet, they still retain a strong bite pressure, are easy to clean, and look and feel like natural teeth.
Teeth Next Day® at the Implant Center
Many patients are amazed to learn they can have implants placed by Dr. Ajmo, and leave with a Prettau® Bridge in place the next day. Dr. Ajmo has many years of experience placing dental implants, which are small titanium posts surgically placed in the jaw to support dentures, bridges and dental crowns. Among the first dentists in the U.S. to offer Prettau® Zirconia, Dr. Ajmo has also developed significant expertise with this new technology.
About the Prettau® Zirconia Bridge
The all-ceramic Prettau® Zirconia Bridge is a premium dental prosthesis that offers increased durability and esthetic beauty for denture patients. Made of zirconium dioxide (ZrO2), a naturally occurring mineral, Prettau® Zirconia is 100% biocompatible with the human body, eliminating concerns about toxicity, allergy, or rejection. Zirconia is considered the strongest material used in dentistry today, and its natural white color creates an ideal base for natural-looking teeth restoration.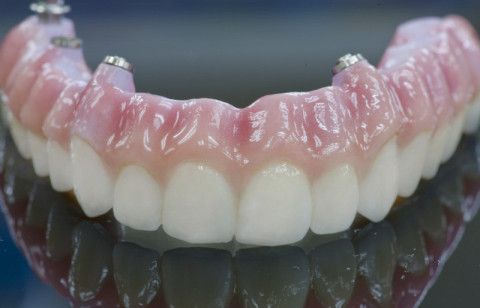 The Prettau® Bridge is created from a solid block of Prettau® Zirconia, so no metal or plastic components are included. The zirconia is painted and glazed to achieve the color and luster of natural enamel, with a look similar to porcelain. Your Prettau® Zirconia Bridge will not chip, crack or fracture, and it cannot absorb stains, odors or bacterial because zirconia is impermeable to fluids.
There is simply no comparing the Prettau® Zirconia Bridge with other solutions for missing teeth, such as traditional removable dentures, implant dentures with a bar overdenture, or an acrylic and metal "hybrid" bridge. Acrylic is known to break easily and absorb stains and odors. The Prettau® Zirconia Implant Bridge looks and feels as close to natural teeth as is possible in dentistry today.

Teeth Next Day ®Teeth in Just a Day
Using 3D CT Scan technology, Dr. Ajmo will first determine your candidacy for dental implants and the best placement for your custom Prettau® Bridge. Dr. Ajmo is specializes in IV sedation, so anxious patients need not worry about pain and discomfort. While you rest in a twilight state, Dr. Ajmo will perform any necessary extractions and place your dental implants that same day.
The next day, he will provide you with the Prettau® temporary bridge, made of a special, ultra-hard plastic. This will have the exact dimensions of your permanent bridge, allowing you to test the new prosthetic before the final product is created. When you and Dr. Ajmo are satisfied with the fit and aesthetics, your permanent bridge is fabricated by a specialty Prettau® lab.
We encourage our patients to educate themselves about each and every procedure they're interested in. We've compiled a list of some of the most frequently asked questions we've received from patients and answered them for your convenience. if you find you have more questions, don't hesitate to contact us.
Teeth Next Day caters to patients who may not have the time in their busy lives for the extensive procedures that traditional implants require. Additionally, Teeth Next Day is the perfect solution for those who desire improved oral health for their multiple missing teeth. The benefits far outweigh those that may be found with dentures or dental implants.
We understand if our patients are concerned about the cost of a procedure for Teeth Next Day. The final price of the procedure will vary depending on the number of implants needed and if any supplemental procedures are needed, such as a bone or gum graft. We also offer many financing options to help loosen the burden.
Many of our patients have found solace in testimonials and progress photos of the procedure to trust Teeth Next Day. Take a look at some before and after photos from some of our patients and see for yourself why Dr. Ajmo's Teeth Next Day treatment may be right for you.
Contact Our Office
Find out how much better life can be with a smile full of beautiful, fully functional teeth. Contact PGA Dentistry today and schedule your consultation with Dr. Ajmo.
RECENT BLOG POSTS
Categories:
Osseointegration, Dental Implants
Author:
Date:
2015-06-26
We get many questions about the reason it can take up to a few months for dental implants to heal.  Though there are full mouth procedures where you can leave with a brand new smile in one day (Teeth Next Day), many times the implantation of one or a few dental implants must "osseointegrate" with your jaw.  Osseointegration is the fusing of the implant with your jaw bone.
OFFICE HOURS
Monday-Friday 8am - 5pm
Please feel free to give us a call or stop by anytime if you have a question or would like to schedule an appointment.
PGA Dentistry
Palm Beach Gardens Office
7100 Fairway Dr Ste 59
Palm Beach Gardens, FL 33418