Dental implants provide a stable, supportive anchor for crowns and dentures. However, traditional dental implants have one significant drawback: they're not appropriate for people with compromised jawbone density. Traditional implants need strong, healthy bone tissue and, unfortunately, people who could benefit from dental implants the most – specifically, longtime denture wearers – commonly suffer from atrophied jaws.

Thanks to advancements in treatment planning and implantation techniques, patients who may not qualify for traditional dental implants might be candidates for mini dental implants. Dr. Jay Ajmo places mini dental implants at our Palm Beach Gardens dental practice, often in a single appointment and with only local anesthetic. Contact us today to learn more.

Introducing Mini Dental Implant
Although they're both made from a biocompatible titanium alloy, traditional dental implants have an average diameter of 4-5mm, while mini dental implants have a diameter of 3mm or less. Mini implants are often longer than traditional implants and may be placed at different angles and depths to optimize stability. Dr. Ajmo generally recommends mini implants for patients who have worn full dentures for several years, but want a more reliable alternative to removable dentures, which tend to slip out of place.
Mini implants are an excellent solution for anchoring a full lower denture, although they can also anchor an upper denture. The PGA Dentistry partners with a trusted dental lab that can, in some cases, retrofit a patient's existing dentures to connect to mini implants.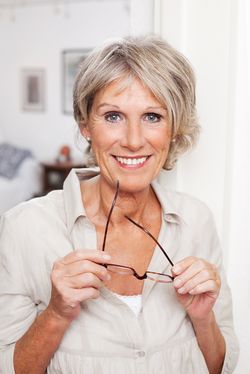 DENTAL IMPLANTS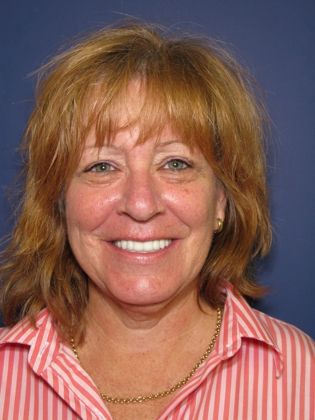 Sharon was lost most of her teeth due to failure of her old crowns. She was extremely fearful of dentists and wanted a dentist who could provide her with permanent implant options under sedation. After dental reconstruction Sharon can smile with confidence and never worry about wearing dentures. "I have always suffered with major dental problems and wanted a special dentist who could give me a smile I'd be proud of. I'm so thankful I found the right doctor to help me." SHARON
Benefits of Mini Implants
For some patients, mini implants offer a number of benefits, including:
Mini implants typically cost less than traditional implants.
No downtime.
No more dentures that slip, slide, or shift while eating and speaking.
No need for denture adhesive.
If used to secure an upper denture, mini implants can negate the need for a palate plate, meaning that thousands of taste receptors that were previously covered up are now exposed. This results in a heightened sense of taste and improved enjoyment of flavorful foods.
In many cases, mini implants can help people whose age or health status disqualifies them from undergoing traditional implant surgery.
Moreover, Dr. Ajmo has the expertise and training to place immediate-load mini implants. If you and the doctor determine that mini dental implants are right for you, you can walk into your appointment with problematic removable dentures and walk out with a secure, functional set of mini-implant-secured dentures.
​

How are Mini Implants Placed?
Before you come in for your implant placement appointment, you will first sit down and have an in-depth consultation with Dr. Ajmo. During this meeting, you will discuss goals for treatment, and review your medical and dental history. He will perform an evaluation of your jaw and other oral structures. If you will need a new denture, expect to discuss aesthetic elements, such as shape, length, and shading, that will guide Dr. Ajmo as he designs your prosthetics. Should you require oral sedation or IV sedation, the arrangements can be made during your consultation.

​At the implant placement appointment, Dr. Ajmo will first ensure that you feel calm and relaxed, and that the sites where the implants will be placed are thoroughly numbed. He will insert the implants at precision locations to maximize your existing bone tissue. After the mini implants are secured, Dr. Ajmo will attach your dentures and check the fit. Your dentures will still be removable, but much more secure.
Talk to Us about Solutions for Loose Dentures
Dr. Ajmo and our team are excited about mini dental implants, because they allow us to help our patients enjoy a higher quality of life. If you would like to learn more about mini implants, contact us today and schedule your consultation.
RECENT BLOG POSTS
Categories:
Osseointegration, Dental Implants
Author:
Date:
2015-06-26
We get many questions about the reason it can take up to a few months for dental implants to heal.  Though there are full mouth procedures where you can leave with a brand new smile in one day (Teeth Next Day), many times the implantation of one or a few dental implants must "osseointegrate" with your jaw.  Osseointegration is the fusing of the implant with your jaw bone.
OFFICE HOURS
Monday-Friday 8am - 5pm
Please feel free to give us a call or stop by anytime if you have a question or would like to schedule an appointment.
PGA Dentistry
Palm Beach Gardens Office
7100 Fairway Dr Ste 59
Palm Beach Gardens, FL 33418