When missing teeth compromise your smile, it's important to find a solution that provides function, good form, and aesthetic appeal. It's time to say goodbye to the removable dentures that fit poorly, pinch and rub, and require messy adhesives. Dr. Jay Ajmo provides implant-supported dentures at his Palm Beach Gardens office to improve your oral health, your smile's style, your confidence, and your comfort.

Keeping removable dentures clean and in good shape can be inconvenient and costly, by placing a few dental implants in your jawbone and using them to anchor your dentures, you are setting yourself up for a lifetime of good health. If you would like to learn more about this revolutionary procedure, contact PGA Dentistry today.
VIDEO: INA'S TESTIMONY
Ina discusses her experience with sedation dentistry and dental implants at our Palm Beach Gardens practice.
Understanding the Procedure
One of the most important aspects of your dental implant procedure is the initial
consultation
. In addition to determining whether you are a candidate for implant-supported dentures, this appointment builds the foundation of your customized treatment, detailing each aspect of your care to provide you with the most successful results. If you suffer from dental anxiety or wish to make your experience a little less stressful, PGA Dentistry also provides IV and oral conscious sedation.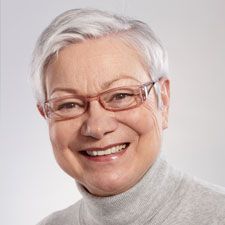 ​Guided by each of your needs, Dr. Ajmo will masterfully sculpt your new denture to fit comfortably on your gums and accent the your other facial features. Our highly acclaimed dental laboratory is located in Palm Beach Gardens, where your implant-supported dentures will be fabricated. While your dental implants heal, we will fit you with a temporary restoration to maintain the aesthetics of your smile; after a few months, your permanent restoration will be placed.​

On the day of your procedure, we will administer anesthetic and give you time to get comfortable. Dr. Ajmo will gently place the small titanium implants into your jawbone, where they will act as an anchor for your dentures. Next, the process of osseointegration, the fusing of the implant to the bone, begins. Your implants will heal and become secure extensions of your jawbone; artificial tooth roots. Finally, your dentures will be locked into place, and you will be on your way with a brand new smile.
DENTAL IMPLANTS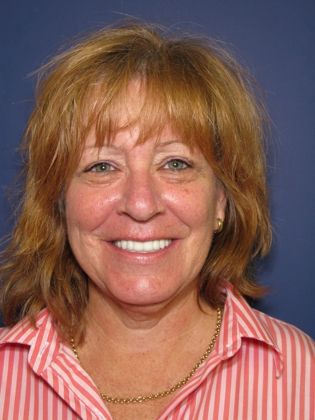 Sharon was lost most of her teeth due to failure of her old crowns. She was extremely fearful of dentists and wanted a dentist who could provide her with permanent implant options under sedation. After dental reconstruction Sharon can smile with confidence and never worry about wearing dentures. "I have always suffered with major dental problems and wanted a special dentist who could give me a smile I'd be proud of. I'm so thankful I found the right doctor to help me." SHARON
The Oral Health Benefits
Removable dentures can trap harmful bacteria against your gums and raise your risk for periodontal disease. Traditional dentures don't protect against the resorption, or deterioration, of your jawbone, but implant-supported dentures integrate with your jaw to maintain the structure of the bone and the health of your mouth. The small titanium screws are incredibly durable, and if properly cared for, your new smile could last the rest of your lifetime. The high quality dentures Dr. Ajmo uses make chewing, eating, and speaking significantly easier than with removable appliances. Losing all of your teeth can be detrimental to your oral health, but with implant-supported dentures, you can rebuild your smile from the root up.​
The Aesthetic Benefits
Your smile is a great way to express yourself and to make a great first impression. Removable dentures can slip, or affect your speech. If you feel unconfident or embarrassed about the appearance of your smile or worry about your teeth slipping, it may be difficult to speak with confidence. As soon as you leave our office with your new smile, you can enjoy a rejuvenated sense of self-assurance and pride.

Learn More about Implant-supported Dentures
If you are ready to transform your smile into a naturally functioning, beautiful asset, PGA Dentistry is the place for you.
Contact Dr. Ajmo in Palm Beach Gardens
today to schedule a consultation for implant-supported dentures.
RECENT BLOG POSTS
Categories:
Osseointegration, Dental Implants
Author:
Date:
2015-06-26
We get many questions about the reason it can take up to a few months for dental implants to heal.  Though there are full mouth procedures where you can leave with a brand new smile in one day (Teeth Next Day), many times the implantation of one or a few dental implants must "osseointegrate" with your jaw.  Osseointegration is the fusing of the implant with your jaw bone.
OFFICE HOURS
Monday-Friday 8am - 5pm
Please feel free to give us a call or stop by anytime if you have a question or would like to schedule an appointment.
PGA Dentistry
Palm Beach Gardens Office
7100 Fairway Dr Ste 59
Palm Beach Gardens, FL 33418