One of the most important things to the team at PGA Dentistry is that our patients feel comfortable with the treatment they are receiving and are prepared with useful information to help them understand the process and set their expectations wisely. Dr. Jay Ajmo will provide you with excellent dental implant information on your first visit to hisPalm Beach Gardens office. During this consultation, we urge you to ask questions and share your concerns so that we can equip you with the knowledge you need. To schedule an appointment, contact us today.



What are Dental Implants?
Dental implants are made up of three parts – the titanium screw, abutment, and prosthetic tooth.
The titanium screw is embedded into the jaw where the missing tooth once was, encouraging bone growth and keep the teeth from shifting. The abutment caps the top of the screw and protrudes from the gumline as a post for the porcelain tooth to be placed. The prosthetic tooth is customized to blend in seamlessly with your surrounding teeth, even matching the color and contour. Altogether, the dental implant offers a more natural-looking, permanent solution to tooth loss than other temporary solutions like dentures and dental bridges.
What are the Benefits of Dental Implants?
Our patients have found many benefits for the dental implants. For one, they prevent the jawbone from collapsing or becoming infected, as the implant effectively fills the gap left behind and encourages bone growth around it. By being permanently fixed in the jaw, patients can clean them as easily as their other teeth, and enjoy a stable bite pressure for mealtimes. Psychologically, our patients have noticed a resurging confidence in themselves. By restoring their smiles to their once photogenic state, our patients are ready to take on the world once again and smile genuinely.
DENTAL IMPLANTS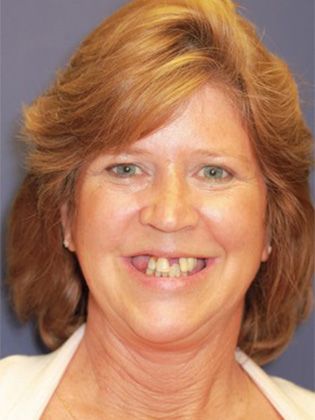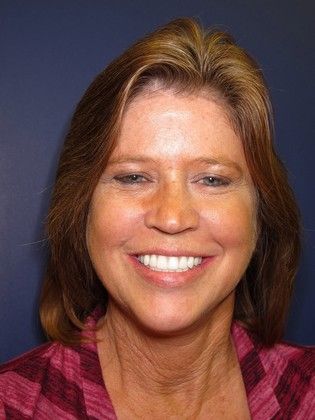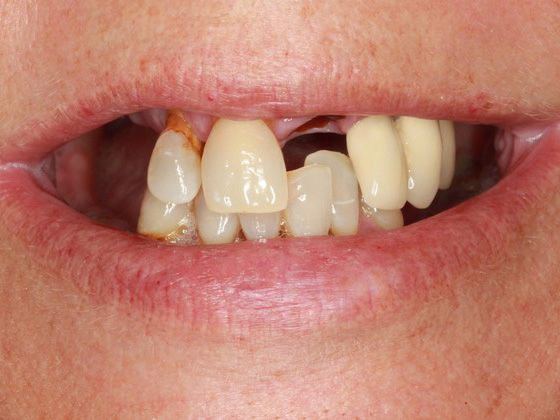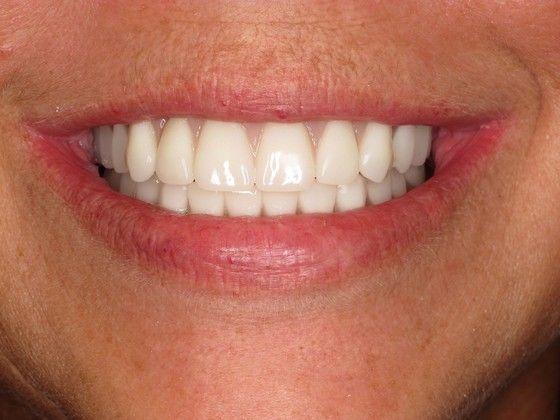 ​Michelle suffered with very poor dental health. Her fear of the dentist caused her to avoid going to the dentist all of her adult life. None of her remaining natural teeth were able to be salvaged. Michelle underwent full mouth reconstruction with dental implants and Prettau Zirconia bridgework. All of her treatment was performed under IV sedation. Actual patient of Dr.Jay Ajmo. PGA Dentistry, PGADenstistry.com
Am I a Good Candidate for Dental Implants?
The best candidates for dental implants are those who are in need of them – missing one or more teeth, have tooth decay, or want to swap out their dentures or dental bridges. However, patients who have excessive tooth decay or other periodontal diseases may need supplemental procedures prior to surgery. If you are lacking sufficient jawbone or gum material, Dr. Ajmo may recommend a bone or gum graft to encourage growth in those areas prior to surgery. In some cases, the grafts can be applied during the first phase of the implant process as well.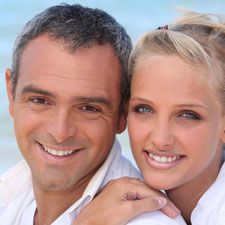 How Much Will Dental Implants Cost?
The cost of a dental implant can approximate the cost of restoring a badly decayed tooth, but the predictability of long-term success is much higher. When it comes to your oral and overall health, the expenses required for dental implant treatment are minimal when the reward is taken into account. All of our restorative, cosmetic, and preventive dentistry services should be seen as investments in your future, your health, and your happiness. Dr. Ajmo also provides various financing and payment options to make treatment more affordable.
Will I Need Bone Grafting?
When patients come in to PGA Dentistry and need to have a one or more teeth replaced, but have suffered significant bone loss in their jaw, a bone grafting procedure is often necessary. Using our 3D CT Scan diagnostic imaging, Dr. Ajmo can quickly and accurately check the quantity and quality of the remaining bone to see if additional bone needs to be grafted in order to properly support a dental implant. During your consultation at our office, we will determine whether or not a bone graft is necessary in order to proceed with dental implants. Thanks to the incredibly dental technology we have access too and Dr. Ajmo's surgical skill, the bone grafting procedure can be completed before or during the dental implant surgery.
Will I Feel Discomfort or Experience Anxiety?
At PGA Dentistry, we understand that every patient experiences different levels of comfort with dental appointments and treatment. Because of our anesthesiologist's vast experience, you will be kept completely numb and relaxed throughout the entire process. For at-home recovery, Dr. Ajmo can prescribe medications to keep you comfortable during the healing process. If you suffer from severe dental phobia or anxiety, sedation options will be discussed at length during your consultation at our Palm Beach Gardens practice to ensure that you have all the dental implant information you need.
VIDEO: SOLVING DENTAL ANXIETY
The key to solving dental anxiety lies in the approach to treatment. By using IV sedation, our patients are able to relax throughout the course of their procedures. This technique is indicated for patients who suffer from dental phobia and anxiety, as well as those who are undergoing extensive treatments.
What are the Differences Between Dental Implants and Dentures?
It's not uncommon for one of our patients to return with their denture in hand and ask for dental implants instead. Our patients recognize that dental implants may be best for them, as the convenience and long-lasting effects outweigh the traits of dentures. Dentures and dental bridges are only temporary solutions for missing teeth. They merely cover the gap left behind and do little to prevent the surrounding teeth from shifting or keep the jawbone underneath from collapsing. They also have an unfortunate habit of becoming loose and falling out. Nothing is quite as embarrassing as eating with friends and family and having to adjust your dentures at the table. After every 5 to 10 years of daily removal and scrubbing, dentures and bridges also need replacement due to general wear and tear. Dental implants offer a permanent solution, filling the space and encouraging bone growth for a healthier smile. They're fixed in the jaw, with no risk of falling out or breaking. Because they are so fitted so firmly, they also ensure the same bite pressure so you can enjoy your favorite foods. You can also care for the dental implant in the same way that you would with your natural teeth – brushing, flossing, mouthwash and more.
How Many Implants Do I Need?
Each aspect of the dental implant procedure is completely customizable to your unique needs. The number of implants needed in any particular case varies from individual to individual. Of course, the number of teeth you are missing or that need restoring will play a part in determining the details of your treatment. Dr. Ajmo may suggest any of the following options:
Single-tooth Replacement
Multiple Tooth Replacement
Prettau Zirconia Bridge
Permanently Attached Implants
Attached Dentures

How Soon Will I Have Teeth?
Because of the variations in dental implant restoration techniques, Dr. Ajmo can place natural-looking restorations on your implants soon after surgery, and in many cases, immediately after. No matter which timeline Dr. Ajmo deems best for your needs, you will never leave our office without teeth - whether temporary or permanent, we will make sure the aesthetics of your smile are maintained throughout the process.
What's the Process for Dental Implants?
The first step towards any procedure you're interested in is to consult Dr. Ajmo at PGA Dentistry. His extensive experience in the field of dental implants have enabled Dr. Ajmo to plan and perform many successful implant surgeries for each and every unique patient. If it has been determined that dental implants are right for you by Dr. Ajmo, the next step is to plan each stage of the procedure. Since dental implants are comprised of three parts, the first two parts require a period of healing between the procedures while the third part is the trial and application of the prosthetic tooth.
Need More Dental Implant Information?
Gathering as much dental implant information as possible before undergoing treatment at our Palm Beach Gardens office will significantly improve your experience. Contact us today to schedule a consultation and have your questions answered.
RECENT BLOG POSTS
Categories:
Osseointegration, Dental Implants
Author:
Date:
2015-06-26
We get many questions about the reason it can take up to a few months for dental implants to heal.  Though there are full mouth procedures where you can leave with a brand new smile in one day (Teeth Next Day), many times the implantation of one or a few dental implants must "osseointegrate" with your jaw.  Osseointegration is the fusing of the implant with your jaw bone.
OFFICE HOURS
Monday-Friday 8am - 5pm
Please feel free to give us a call or stop by anytime if you have a question or would like to schedule an appointment.
PGA Dentistry
Palm Beach Gardens Office
7100 Fairway Dr Ste 59
Palm Beach Gardens, FL 33418