VIDEO: DR. AJMO IS A FULL MOUTH RECONSTRUCTION EXPERT
Dr. Ajmo is your full mouth reconstruction expert. Many patients may be missing teeth or have alignment issues, and full mouth reconstruction treatment can combine several procedures to restore your smile. Patients will commonly have dental implants placed in combination with orthodontic treatments for a more complete smile enhancement.

The human mouth is a complex system made up of various tissues and a number of different parts, which include the gums, jaw, teeth, and inner cheeks. These components are interconnected in function. For example, how the upper and lower jaws come together is known as an occlusion, and if your teeth are misaligned this can result in several significant dental health problems, including tooth decay and reduced bite strength. A full mouth reconstruction is a comprehensive treatment of any and all oral health issues that may be compromising your dental and overall wellbeing. By addressing the entirety of the mouth in one procedure, we can restore the natural beauty and brilliance to your smile.
Harmonizing Your Oral Health
If one part of our mouth is not working well, this malfunction could very well lead to health problems elsewhere. As mentioned above, a malocclusion, or a misalignment of the jaw, can result in reduced bite strength and tooth decay, and these in turn could lead to other complications. Tooth decay, if left untreated, can even cause tooth loss by wearing down the various tissues that comprise human teeth and by eventually attacking the center of the tooth. Similarly, if you are suffering from dental caries, there is a high likelihood that you are also experiencing a periodontal infection, which can cause gum and bone tissue loss. If caught early, these oral diseases can be treated; however, it's important to seek a dentist's expertise before they spread and cause significant damage to your oral anatomy.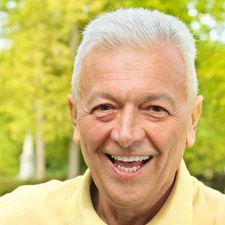 Tooth loss and extensive tooth damage can also lead to deterioration in your dental health. Teeth that are atypically angled or fractured, some surfaces may be hard-to-reach and may therefore receive less brushing and flossing time, in which case the risk of an oral infection increases. Furthermore, if your upper and lower arches are not fitting well together and your teeth are already significantly damaged, the risk of further fracturing and straining is higher than it would be otherwise.
An unhealthy mouth can also affect your emotional wellbeing. In our modern society, our smile is one of the most important components to our appearance and missing, damaged, or infected teeth can hurt our self-confidence and cause a loss in self-esteem. Being unhappy with your teeth can change how you interact with others, how other people interact with you, and could result in depression and deep emotional distress. Fortunately, a full mouth reconstruction at PGA Dentistry can help brighten up your day by revitalizing your smile.
FULL MOUTH RESTORATION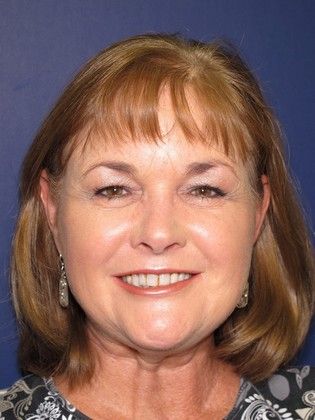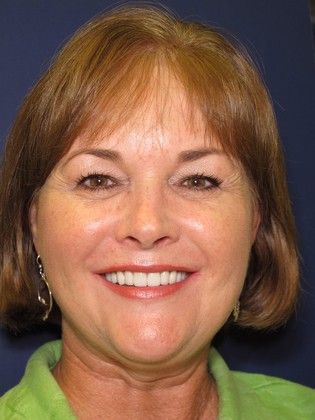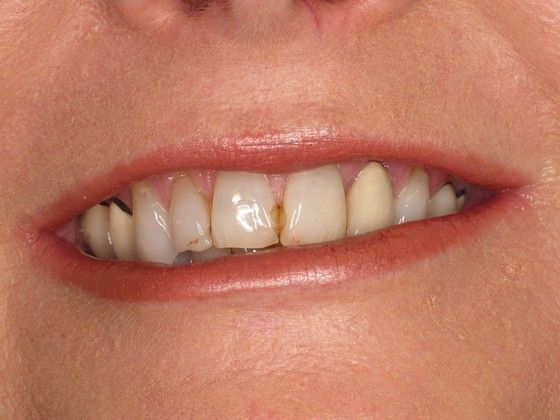 Elaine had older crowns on all of her back teeth and dental bonding on her front teeth. She had a deep overbite causing her lips to be unevenly supported. She underwent full mouth restoration with cosmetic porcelain crowns to replace her older crowns and cosmetic porcelain veneers on her front teeth to replace her bonding. Her entire mouth was restored to optimum health, function and aesthetics. Her bite was changed to reduce her overbite and establish more even lip fullness and balanced facial aesthetics. Actual patient of Dr.Jay Ajmo. PGA Dentistry, PGADenstistry.com
What a Full Mouth Reconstruction Can Do For You
Through a comprehensive approach, a full mouth reconstruction tackles every aspect of your oral health, all in the same procedure. At our Palm Beach Gardens, FL office, we use cutting edge computer imaging technology to build a precise digital impression of your mouth, which we will use to design an effective and multi-dimensional treatment plan that addresses your oral health as a whole. Through a combination of treatments we can eliminate your dental pain and help your smile regain its lost luster.
​Each patient has a unique oral anatomy and an exclusive set of dental health care issues. As such, no two full mouth rehabilitations will be the same; the combinations of treatments will change depending on each person's specific dental needs. Generally speaking, at PGA Dentistry we like to confront the higher priority health risks first. This may include, for instance, periodontal and
root canal therapy
to eliminate gum disease and tooth decay, respectively. If the patient has suffered from bone loss, either as a result of a periodontal infection or because of tooth loss, we may also perform a bone graft. Once the mouth has healed from these initial treatments, we can then use
dental implants
, removable dentures, or dental bridges to replace lost teeth, while damaged teeth can be repaired with natural-looking
porcelain veneers
.
Does visiting the dentist make you feel nervous or anxious? At our Palm Beach Gardens, FL practice we prioritize your health and your comfort, and to that effect we offer a variety of spa-like amenities. Our patients can benefit from luxuries like aromatherapy, massage chairs, and silent hand pieces. Additionally, Dr. Ajmo is one of a small number of south Florida dentists who specializes in
sedation therapy
, which will keep you calm and awake during the procedure. Expertly monitored by Dr. Ajmo and his elite staff, oral conscious sedation is safe, effective, and extremely popular amongst our patients.

Revolutionize Your Smile and Safeguard Your Dental Health Today
The results that can be attained through a full mouth reconstruction are truly stunning. During your consultation with Dr. Ajmo we can show you the incredibly improvements that past patients have accomplished so that you can see for yourself how a full mouth rehabilitation can benefit you. If you suffer from oral health problems, contact us to schedule your no-obligation consultation today!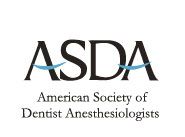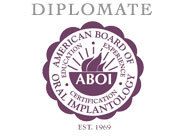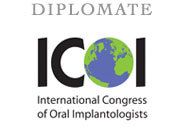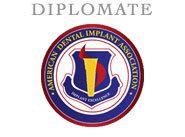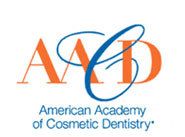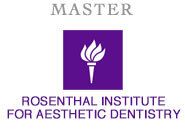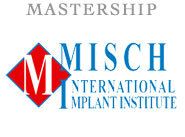 RECENT BLOG POSTS
Categories:
Osseointegration, Dental Implants
Author:
Date:
2015-06-26
We get many questions about the reason it can take up to a few months for dental implants to heal.  Though there are full mouth procedures where you can leave with a brand new smile in one day (Teeth Next Day), many times the implantation of one or a few dental implants must "osseointegrate" with your jaw.  Osseointegration is the fusing of the implant with your jaw bone.
OFFICE HOURS
Monday-Friday 8am - 5pm
Please feel free to give us a call or stop by anytime if you have a question or would like to schedule an appointment.
PGA Dentistry
Palm Beach Gardens Office
7100 Fairway Dr Ste 59
Palm Beach Gardens, FL 33418