There is a distinct relationship between oral health and overall health. Certain oral health disorders can increase your risk of systemic illnesses, while some chronic health conditions may increase your risk for oral disease. In some cases, the relationship is cyclical. For example, diabetics are more susceptible to gum disease, and gum disease can be a factor in developing diabetes.

Attending preventative dental care visits with Dr. Jay Ajmo can lead to early diagnosis of a host of oral and general health issues, giving you an opportunity for early intervention and improved overall health. Dr. Ajmo and his staff at the PGA Dentistry look forward to helping you stay healthy by conducting your in-depth dental check-up at our luxurious Palm Beach Gardens dental practice Contact us today to learn more.

Our Commitment to Your Health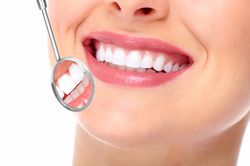 Signs of dental caries, such as demineralized tooth enamel and decay.

Signs of gum disease, including deep periodontal pockets, and gums that bleed easily or are red, tender, and swollen. Bad breath, or halitosis, is also a common symptom of gum disease.

Soft tissue abnormalities that could indicate a number of oral health problems, including viral infections (cold sores) or oral cancer.

Dysfunction in the temporomandibular joints ( TMJs), often contributing to symptoms such as pain in the face, jaw, neck, or shoulders. Other symptoms include conditions such as chronic headaches or migraines, tinnitus (ringing ears), tingling extremities, and bruxism (teeth grinding).

If Dr. Ajmo identifies oral health issues during your check-up, he will work closely with you to help you understand your condition, and what steps you can take to prevent it from becoming worse. We provide our patients with a special mouth rinse that neutralizes bacteria, thus minimizing the amount of oral bacteria entering the bloodstream after a dental cleaning. We can also help you refine your brushing and flossing techniques, recommend the best oral healthcare products for your needs, and offer nutrition advice to promote optimal oral health throughout your lifetime. If treatment is required, Dr. Ajmo will consult with you, and together you and he can create a practical treatment plan to maximize your oral health, while supporting good overall health.
Schedule Your Check-up Today
The American Dental Association recommends you visit your dentist every six months for a routine check-up and cleaning to help maintain good oral health. Dr. Ajmo and our team will treat you with respect and a high level of care at every appointment. Regular dental care is one of the best investments you can make in your health. If you are new to our area, or need to establish ongoing care with an exceptional dentist, please contact us today.
RECENT BLOG POSTS
Categories:
Dental Implants, Bone Graft
Author:
Date:
2015-05-11
Sometimes our patients have lost many teeth and waited quite some time to place dental implants.  Without your natural teeth, or implants in place, your jaw bone can begin to deteriorate.  This leads to the face having a "sunken" appearance.  For these patients it is necessary for Dr. Ajmo to perform a bone graft in order to create enough bone in the jaw for the implants to fuse with.  Learn more about bone grafts in today's blog article.
OFFICE HOURS
Monday-Friday 8am - 5pm
Please feel free to give us a call or stop by anytime if you have a question or would like to schedule an appointment.
PGA Dentistry
Palm Beach Gardens Office
7100 Fairway Dr Ste 59
Palm Beach Gardens, FL 33418