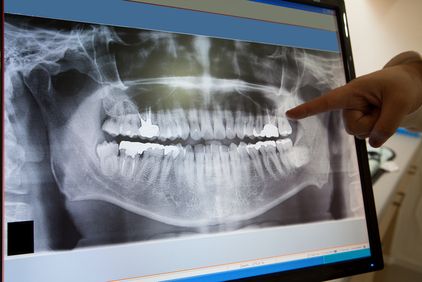 Dental implants have revolutionized the field of restorative dentistry by allowing patients to experience crowns, bridges, and dentures with an unparalleled level of stability. Unfortunately, many patients will find that they are not
good candidates for treatment because their jaws are not dense enough to support the implant posts. To restore jaw strength and help patients qualify for dental implants, Dr. Jay Ajmo can perform
bone grafting surgery
at our
Palm Beach Gardens, FL
, practice. To discover how you may benefit from a bone grafting procedure, contact our practice today.

Candidates for Bone Grafting
After tooth loss, the surrounding area of the jaw will no longer receive proper stimulation, causing it to gradually recede. This bone recession can eventually lead to changing facial structure and a range of oral health concerns. Dental implants, which are small metal posts that function as artificial tooth roots, require a certain amount of bone density for placement, so patients with weakened jawbones will often find they are precluded from treatment. In these cases, bone grafting offers an effective way to restore lost jawbone density.

Bone grafting involves surgically placing a small amount of healthy bone into the jaw. The graft not only replaces lost tissue, but it also stimulates new bone growth. The graft typically comes from one of two sources — the patient's own body or from an outside donor. We can evaluate your candidacy for bone grafting by taking cone beam computerized tomography (CT) scans. These scans will create a 3-D image of your jawbone so that we can evaluate the level of bone recession.
The Bone Grafting Procedure
Your bone grafting surgery may be performed at Dr. Ajmo's office or at the hospital, depending on the source of the graft and the number of implants you plan on receiving. In general, one or two implants typically only require a little grafting material from the chin, necessitating a simple outpatient procedure at the office. Multiple implants often need more grafting material, usually from the hip or shin bone, which must be extracted at the hospital.
The graft not only replaces lost tissue, but it also stimulates new bone growth.
To begin the procedure, we will administer anesthesia to ensure your comfort. Next, an incision will be made in the gums to access the weakened area of your jawbone. The graft will then be firmly affixed to the jawbone and a protective membrane will be placed over the site. Once the incisions are sutured shut and the procedure is complete, you will need to have someone drive you home. The graft will be left to heal for several months, and you will return for follow-up appointments during this time so that we can monitor your progress. We can also begin planning the details of your dental implants treatment while healing takes place.
Contact Us to Learn More
As a renowned dental implant specialist and oral surgeon, Dr. Ajmo possesses comprehensive expertise restoring smiles after tooth loss. If you have found that jawbone recession is preventing you from receiving dental implants, schedule an appointment to discover if bone grafting can help you qualify.
RECENT BLOG POSTS
Categories:
Osseointegration, Dental Implants
Author:
Date:
2015-06-26
We get many questions about the reason it can take up to a few months for dental implants to heal.  Though there are full mouth procedures where you can leave with a brand new smile in one day (Teeth Next Day), many times the implantation of one or a few dental implants must "osseointegrate" with your jaw.  Osseointegration is the fusing of the implant with your jaw bone.
OFFICE HOURS
Monday-Friday 8am - 5pm
Please feel free to give us a call or stop by anytime if you have a question or would like to schedule an appointment.
PGA Dentistry
Palm Beach Gardens Office
7100 Fairway Dr Ste 59
Palm Beach Gardens, FL 33418