Dr. Jay Ajmo
performs regular
oral cancer screenings
at our
Palm Beach Gardens, FL
, practice to ensure that potential problems are caught as early as possible. Unless they use tobacco, most people don't think much about oral and pharyngeal cancers. However, these cancers claim one American life per hour, every day, all year long – and though tobacco is a risk factor, anyone can develop oral cancer. We know that early detection and treatment of oral cancer increases the survival rate dramatically. That's why Dr. Ajmo insists upon providing simple, yet comprehensive oral cancer screenings on all of our patients.
The most common symptom of oral cancer is a red or white sore in the mouth, or nagging oral pain, that does not heal over two weeks or longer.

Risk Factors
Research shows that nearly 80% of people diagnosed with oral or pharyngeal cancers use tobacco, either cigarettes, snuff, or chewing tobacco. Approximately 70% of those diagnosed drink alcohol in excess. All types of oral and pharyngeal cancers are doubly likely in males than females, and 66% of all those diagnosed are over age 55. Some genetic conditions and diseases also increase a person's risk for these cancers. Specifically with lip cancer, risk increases with unprotected sunlight exposure. In addition, a diet lacking in sufficient fruits and vegetables can increase a person's risk for oral and pharyngeal cancers.
Symptoms
The most common symptom of oral cancer is a red or white sore in the mouth, or nagging oral pain, that does not heal over two weeks or longer. In some cases, people mistake oral or pharyngeal cancer for a cold or a toothache. People may experience a thickening or lump inside their cheek or on their neck, problems swallowing or moving the tongue, numbness of the tongue, voice changes, or pain in the teeth, jaw, or throat. Weight loss and halitosis (bad breath) are also indicators.
What Screening Entails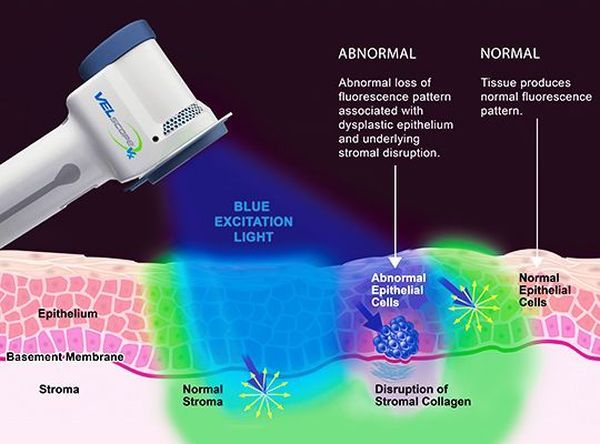 An oral cancer screening just takes a few minutes, and unless you know what the doctor is doing, you many not even be aware you're undergoing a screening. Dr. Ajmo adheres to the American Dental Association's guidelines for oral cancer screenings. He'll inspect all the soft tissues of your mouth, including beneath the tongue, for sores, spots, or discolored tissue that could indicate a simple mouth sore or a possible oral cancer lesion. If the doctor finds a lesion, he'll ask you questions to help him determine if a biopsy is necessary. Dr. Ajmo will also palpate the lymph nodes in your neck and evaluate your head and neck for lumps.
If the doctor finds cause for concern, he'll refer you for a biopsy. This is not a diagnosis, but a test to find out whether the suspicious lesion or lump is cancer. Don't postpone the biopsy, though. OralCancerFoundation.org tells us that many people "keep an eye on" suspicious lesions for well beyond the recommended two-week period, before seeking a biopsy. If your lesion is malignant oral cancer, early diagnosis will significantly increase your potential for successful treatment.
Contact Us Today
Schedule your consultation, and you'll receive a thorough oral cancer screening at your appointment.
Call Dr. Ajmo at PGA Dentistry
in Palm Beach Gardens, FL and reserve your appointment today. We offer a full range of preventive, cosmetic, implant, restorative, and sedation dentistry.
RECENT BLOG POSTS
Categories:
Osseointegration, Dental Implants
Author:
Date:
2015-06-26
We get many questions about the reason it can take up to a few months for dental implants to heal.  Though there are full mouth procedures where you can leave with a brand new smile in one day (Teeth Next Day), many times the implantation of one or a few dental implants must "osseointegrate" with your jaw.  Osseointegration is the fusing of the implant with your jaw bone.
OFFICE HOURS
Monday-Friday 8am - 5pm
Please feel free to give us a call or stop by anytime if you have a question or would like to schedule an appointment.
PGA Dentistry
Palm Beach Gardens Office
7100 Fairway Dr Ste 59
Palm Beach Gardens, FL 33418