Limited Time Offer
Complimentary Consultation Or 2nd Opinion
Includes Exam (D0150) And X-Rays (D0330)
Plus
$500 Credit
Towards Your Treatment
*Certain Conditions Apply
Call Today
To Schedule Your Appointment
Denise discusses her smile transformation with Teeth Next Day®.
Dr. Jay Ajmo describes the amazing results achieved with the Zirconia Implant Bridge.
Full Mouth Reconstruction
There are a number of people who have dental problems throughout their mouths that must be treated comprehensively with a vision of a final result that improves both function and esthetics. These patients may exhibit teeth with older crowns, numerous teeth with large fillings that are failing or exhibiting decay, cracked or broken teeth, multiple missing teeth, or badly worn teeth due to bruxism (teeth grinding) or other habits. These patients may all be candidates for a full mouth reconstruction.
As the name implies, full mouth reconstruction refers to rebuilding and/or replacing most or all of the teeth in a patient's mouth. Full Mouth Reconstruction may include crowns, bridgework, dental implants, root canal treatment, oral surgery, periodontal therapy or any combination of treatments necessary to re-establish overall oral health and recreate a more youthful attractive smile.
Full mouth reconstruction combines the fine art of cosmetic dentistry with the science of Restorative and Implant dentistry to improve the health, function, and beauty of the mouth. In almost all instances, a cosmetic smile makeover is performed simultaneously to combine oral health and function with more optimum facial esthetics.
Full Mouth Reconstruction procedures can be time consuming and are usually performed under Oral or IV sedation allowing patients to undergo these procedures with absolutely no stress or discomfort during their dental visits.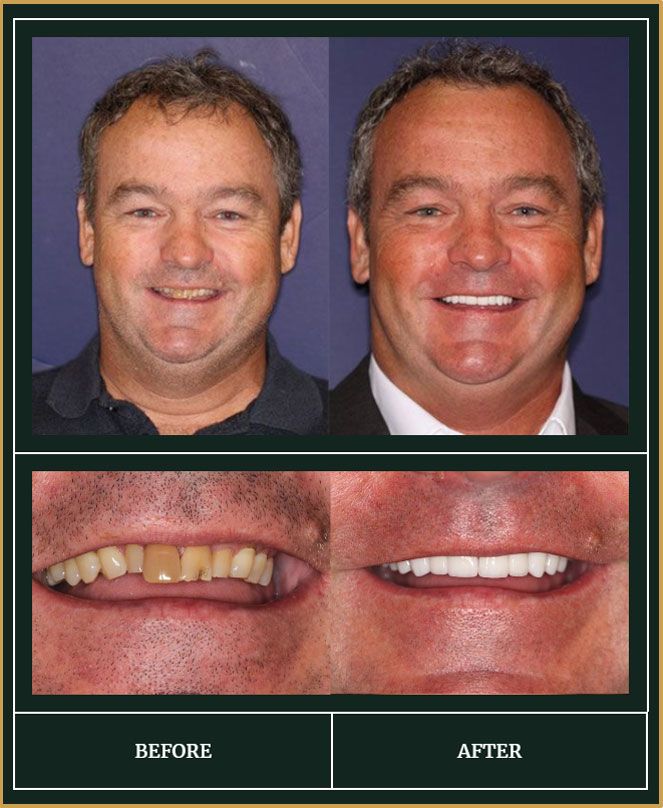 LOSS OF VERTICAL DIMENSION
Teeth Next Day® is designed for patients who have multiple missing teeth or where most of their teeth that cannot be saved. Failing teeth are removed and Dental Implants are placed at the same time so that the entire procedure is completed with one surgery. The next day, custom designed cosmetic teeth are attached to the implants. Teeth Next Day® allows you to smile like you had natural teeth.
Loss of vertical dimension of occlusion causes one to lose volume to the lower half of the face. Lips often appear to be constantly in a frown position, the cheeks sink in and the neck often tightens while attempting to smile.
The result is a dental bite relationship which requires complex rehabilitation to correct. This may involve some of the cosmetic and restorative procedures available at PGA Dentistry.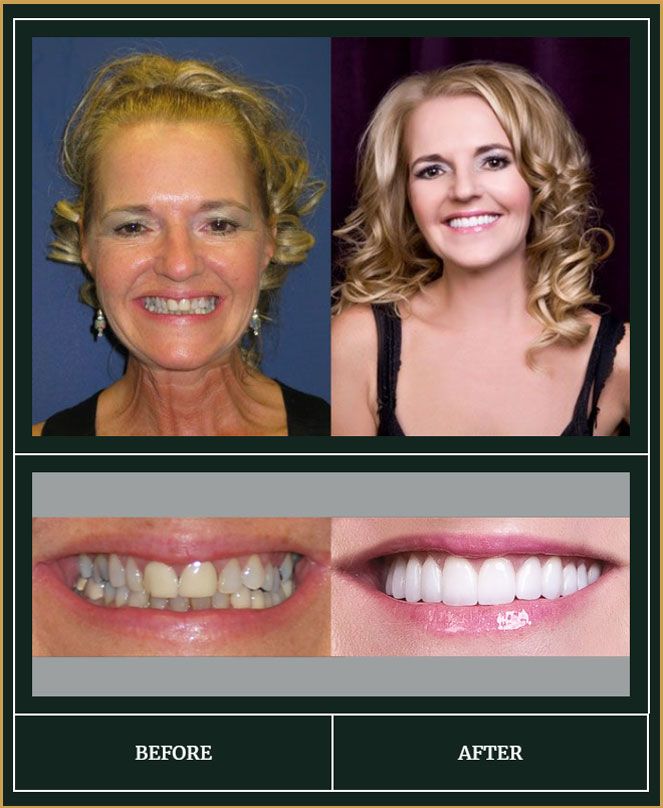 Full-mouth Reconstruction Can Improve Your Quality of Life
A full mouth reconstruction is a comprehensive treatment of any and all oral health issues that may be compromising your dental and overall wellbeing. By addressing the entirety of the mouth simultaneously, we can restore your mouth to function properly and re-establish the natural beauty and brilliance to your smile.
An unhealthy mouth can also affect your emotional wellbeing. In our modern society, our smile is one of the most important components to our appearance and missing, damaged, or infected teeth can hurt our self-confidence and cause a loss in self-esteem. Being unhappy with your teeth can change how you interact with others, how other people interact with you, and could result in depression and deep emotional distress. Fortunately, a full mouth reconstruction at PGA Dentistry can help brighten up your day by revitalizing your smile.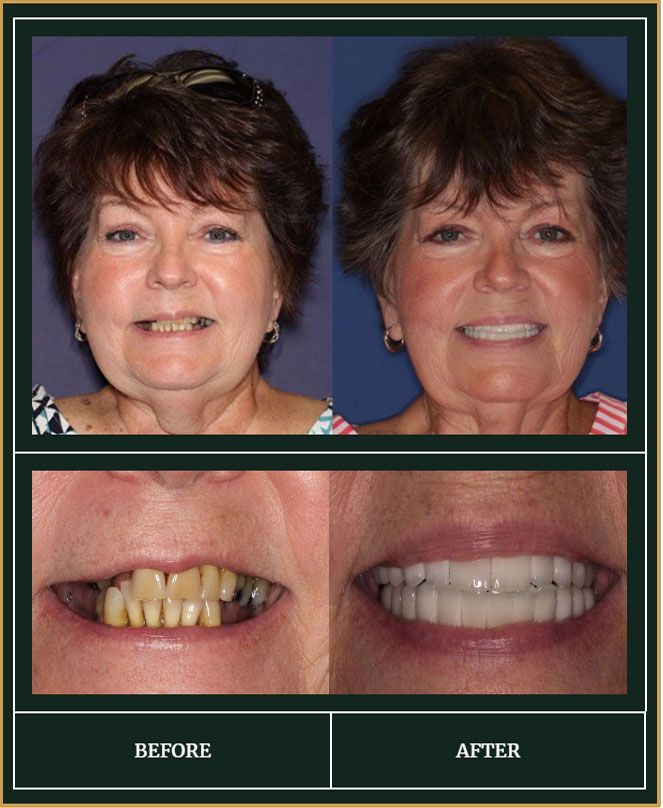 Sedation Dentistry Ensures Your Comfort
Does visiting the dentist make you feel nervous or anxious? At PGA Dentistry we prioritize your health and your comfort, and to that effect we offer a variety of spa-like amenities. Our patients can benefit from luxuries like aromatherapy, massage chairs, and silent hand pieces. Additionally, Dr. Ajmo is one of a small number of south Florida dentists who is Certified in IV Sedation. IV Sedation will keep you totally calm and relaxed throughout your procedure. Expertly monitored by Dr. Ajmo and his elite staff, IV Sedation is safe, effective, and extremely popular amongst our patients.
Trust Your Smile To An Expert!
Dr. Ajmo is well recognized throughout South Florida for his attention to detail and artistic flair for creating naturally beautiful smiles. In addition to having clientele from across the United States, he also has a number of visiting Europeans who seek out his expertise. Dr. Ajmo focuses his practice on complete dental restoration, full mouth reconstruction surgical placement of dental implants, aesthetic smile design and IV sedation.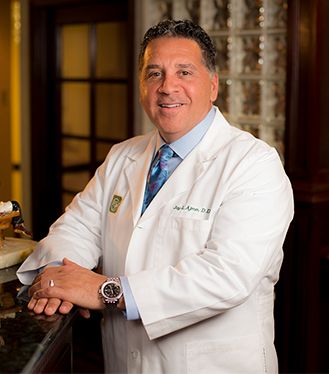 Revolutionize Your Smile and Safeguard Your Dental Health Today
The results that can be attained through a full mouth reconstruction are truly stunning. During your consultation with Dr. Ajmo we can show you the incredibly improvements that past patients have accomplished so that you can see for yourself how a full mouth rehabilitation can benefit you. If you suffer from oral health problems, contact us to schedule your no-obligation consultation today!
Limited Time Offer
Complimentary Consultation Or 2nd Opinion
Includes Exam (D0150) And X-Rays (D0330)
Plus
$500 Credit
Towards Your Treatment
*Certain Conditions Apply
Call Today
To Schedule Your Appointment
Dental Implant Location
PGA Dentistry Palm Beach Gardens Office 7100 Fairway Dr Ste 59
Palm Beach Gardens, FL 33418
​​​​​​​