At PGA Dentistry, we want our Palm Beach Gardens, FL patients to feel as informed as possible about any procedure they are interested in. Below we've listed a few of the most commonly asked questions that come across our desks and have answered them for you. Of course, if you do find that your questions has not been answered, contact us today and one of our helpful staff members will be on hand to help.

What are the benefits of smile makeover procedures?
Just as each and every patient is unique, so are the treatments they need. Smile makeover procedures are customized to each patient, who will in turn reap the benefits of those procedures. These benefits often include an improvement in oral health and appearance, an increase in confidence, and less stress over the care of their new teeth.
Our fillings and root canals can halt the progress of tooth decay before the damage is extensive, but we also provide dental crowns, bridges, and implants in the situation when a tooth must be repaired or replaced. These procedures have proven to improve oral health by preventing neighboring teeth from shifting and encouraging the jawbone to heal.
What are restorative dental procedures?
Restorative dental procedures usually encompass the repairing or replacing of teeth, instead of more aesthetic procedures like whitening. For cases of tooth decay, our tooth-colored fillings and root canals have done the trick in reducing the damage and halting the progress of the decay. In the situation of tooth loss or gum damage, we can provide dental crowns to cap the damaged tooth or dental bridges and dental implants to replace the tooth entirely, if the damage is too great. A noted benefit is that dental implants have been proven to heal the affected area of the jawbone, as the implant acts like an artificial tooth root and encourages the surrounding bone to fuse with it.
COSMETIC PORCELAIN VENEERS: PORCELAIN VENEERS, SMILE MAKOVER WITH LASER GUM CONTOURING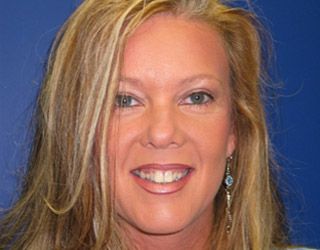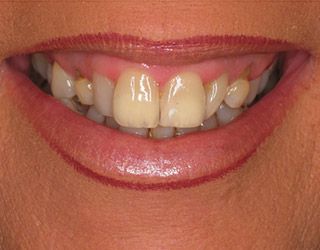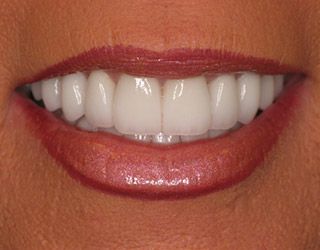 Rhonda had a very narrow upper jaw with dark yellow teeth. She wanted the whitest most brilliant smile possible and a fuller smile to complement her face and reflect her youth. Dr. Ajmo performed laser gum contouring to reshape Ronda's gumline and designed a Complete Smile Lift with Porcelain Veneers. Even though Rhondas' veneers are extremely white, they still have translucencies and contours that look as natural as possible.
What are cosmetic dental procedures?
Cosmetic procedures are purely aesthetic in nature, with very little oral health benefits. While they do wonders for the appearance of your teeth, they would need to be paired with a restorative procedure if your goal is to repair or replace a tooth.

The cosmetic procedures that we have available are porcelain veneers, gum contouring, and teeth whitening. Porcelain veneers are lustrous and stain-resistant caps that cover the front of the tooth. With crafting, they can also be shaped to cover cracks, stains, chipped teeth, and wide gaps between teeth. Gum contouring uses the latest in laser dentistry to shape insufficient gums or areas of the gumline that heavily cover the teeth. Teeth whitening procedures utilize a bleaching gel and bleaching lamp to brighten your teeth to a pearly shine. We also have teeth whitening home remedies available for patients.
What if I need more than one procedure?
The purpose of smile makeover typically encompasses more than one treatment. Depending on the state of your oral health, we may recommend two or more procedures that can contain both restorative and cosmetic procedures. Some commonly combined procedures we've done are teeth whitening and porcelain crowns, or a combination of dental implants and porcelain veneers. After the initial consultation with Dr. Ajmo, he can clarify with you about the procedures you will need to achieve that winning smile.
How much does each procedure cost?
PGA Dentistry understands that our patients may be concerned about the sticker price once they hear that smile makeover typically encompasses more than one procedure. Many of our patients have found the benefits from smile makeover have far outlasted the cost, but for those with a limited budget we proudly offer many financing options and accept a variety of dental insurances to help alleviate the costs. Our practice works in tandem with CareCredit and Springstone Financial services, both of which provide financing for beauty, health and wellness procedures and treatments for patients like you.
Am I a candidate for smile makeover procedures?
Slightly different from smile design candidacy, smile makeover is typically reserved for patients who need it. Patients must be in general good health with good oral health as well. if tooth decay or periodontal disease is rife, Dr. Ajmo will consult with you on the steps to take before delving into surgical procedures.

We also encourage our patients to look over their insurance plan prior to the procedures, in order to fully understand what can or cannot be covered. To learn more about the insurance providers we accept, feel free to contact us today at our Palm Beach Gardens, FL office, and bring your most up-to-date insurance card to the consultation.
More Questions? Call PGA Dentistry!
We want each and every one of our patients to leave PGA Dentistry with the brightest and most comfortable smile possible, through the best cosmetic and restorative procedures available. If you have any further questions that have not been answered, contact us today and a helpful staff member will be able to take your question. If you're interested in smile makeover procedures, schedule a consultation with Dr. Ajmo, where he can discuss with you the different procedures we offer, the process, cost and financing and more.
RECENT BLOG POSTS
Categories:
Dental Implants, Bone Graft
Author:
Date:
2015-05-11
Sometimes our patients have lost many teeth and waited quite some time to place dental implants.  Without your natural teeth, or implants in place, your jaw bone can begin to deteriorate.  This leads to the face having a "sunken" appearance.  For these patients it is necessary for Dr. Ajmo to perform a bone graft in order to create enough bone in the jaw for the implants to fuse with.  Learn more about bone grafts in today's blog article.
OFFICE HOURS
Monday-Friday 8am - 5pm
Please feel free to give us a call or stop by anytime if you have a question or would like to schedule an appointment.
PGA Dentistry
Palm Beach Gardens Office
7100 Fairway Dr Ste 59
Palm Beach Gardens, FL 33418