Smile Makeover procedures at PGA Dentistry are a truly unique combination of treatments that call for the overhaul of a patient's oral appearance. Whether you're missing multiple teeth or have damage from years of bad habits, a smile makeover could be just what you need to reach that champion grin. Read along to learn more about what qualifies most patients for the treatment.
Candidacy for Smile Makeover
Smile makeovers in Palm Beach Gardens, FL are typically reserved for patients who may need more than one procedure to create a straighter, brighter smile. Patients who not only need a restorative treatment, but also desire their whole smile to be upgraded are the best candidates for smile makeover. If too many years of drinking coffee, smoking, or acidic edibles have laid waste to your smile, contact us today to schedule a consultation and explore what smile makeover treatments are available for you.

During the consultation, Dr. Ajmo will examine your oral health and determine if smile makeover is right for you and your teeth. If so, the next part of the discussion will entail what your goals are for your smile – a whiter smile, a few teeth replacements, or perhaps a porcelain veneer or two. In any case, Dr. Ajmo will craft a plan just for you and go over the process in detail.
Types of Smile Makeover Procedures
The following are lists of the types of procedures we offer here at PGA Dentistry in terms of both restorative and cosmetic procedures.
Restorative Procedures
Fillings and Root Canals - to repair cracks and crevices due to tooth decay

Dental Crowns - caps the tooth when the surface is damaged

Dental Bridges - a permanent denture that attaches a prosthetic tooth to neighboring teeth.

Dental Implants - an artificial tooth that replaces a missing tooth down to the jawbone.
DENTAL IMPLANTS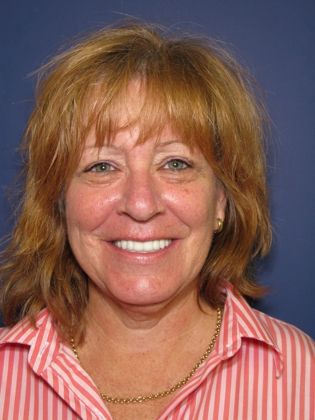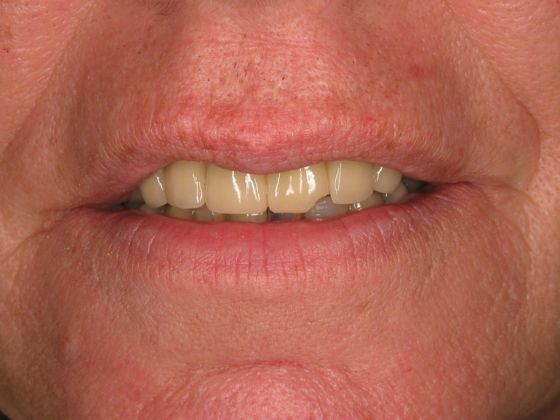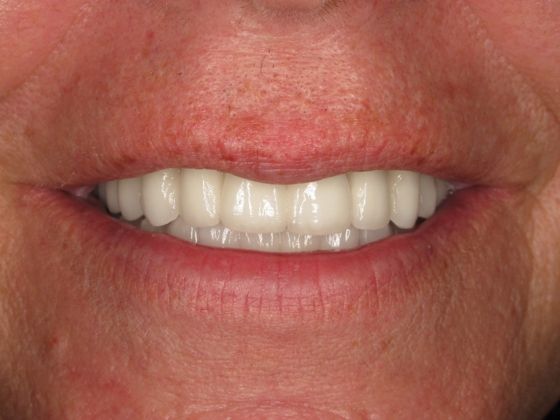 ​Sharon lost most of her teeth due to failure of her old crowns. She was extremely fearful of dentists and wanted a dentist who could provide her with permanent implant options under sedation. After dental reconstruction, Sharon can smile with confidence and never worry about wearing dentures.
Cosmetic Procedures
Porcelain Veneers - white, lustrous caps that cover the front of the tooth

Gum Contouring - uses laser dentistry to shape the gums into a pleasing appearance.

Teeth Whitening - whitens the teeth using bleach gel and a bleaching lamp
With smile makeover treatments, we use a combination of these techniques depending on the current condition of your teeth and what your goals are. Some common combination procedures we have performed are teeth whitening and porcelain veneers, dental implants and porcelain veneers, tooth-colored fillings with dental crowns, and more. Dr. Ajmo and our seasoned staff have years of experience helping patients with their different dental situations.
See If You're a Candidate with Dr. Ajmo
At PGA Dentistry, we have a variety of procedures available to repair or cover any tooth flaw that a patient may be dealing with. To determine if you're a candidate for a smile makeover treatment, contact our office in Palm Beach Gardens, FL today to schedule a consultation. Dr. Ajmo will examine your dental health and discuss the best procedures that will fit your dental plan to produce the best result.
RECENT BLOG POSTS
Categories:
Osseointegration, Dental Implants
Author:
Date:
2015-06-26
We get many questions about the reason it can take up to a few months for dental implants to heal.  Though there are full mouth procedures where you can leave with a brand new smile in one day (Teeth Next Day), many times the implantation of one or a few dental implants must "osseointegrate" with your jaw.  Osseointegration is the fusing of the implant with your jaw bone.
OFFICE HOURS
Monday-Friday 8am - 5pm
Please feel free to give us a call or stop by anytime if you have a question or would like to schedule an appointment.
PGA Dentistry
Palm Beach Gardens Office
7100 Fairway Dr Ste 59
Palm Beach Gardens, FL 33418