Dr. Ajmo and our friendly staff at PGA Dentistry understand that each and every patient is truly unique, and this includes their smiles too. Every unique smile also needs a unique plan when it comes to using smile design procedures to achieve that perfect look. For those who may need multiple procedures, Dr. Ajmo's extensive experience has allowed him to uncover the best combinations to ensure his Palm Beach Gardens, FL patients have that winning smile.
If you're suffering from discoloration, cracks, crookedness, or other flaws in your teeth, Below we have listed a few of the common combined procedures that have been the most successful for our patients.

Dental Crowns and Porcelain Veneers
Dental crowns and porcelain veneers are very similar. The truly big difference lies in the amount of porcelain needed to cover the flaws in a smile. Dental crowns can encapsulate the entire tooth in a thick porcelain cover, usually reserved for weakened teeth with significant enamel loss. Porcelain veneers are thinner and require only a little bit of the enamel to be removed for placement. Despite the difference, a combination of both processes can create a seamless and bright smile.
Porcelain Veneers and Teeth Whitening
Not all teeth will require heavy procedures or tooth replacement options, and that's where a balanced combination of porcelain veneers and teeth whitening comes in. For teeth that may have mild discoloration, a teeth whitening would be recommended, while porcelain veneers would be used for the neighboring teeth that are chipped, damaged or are resistant to the tooth whitening.

COSMETIC PORCELAIN VENEERS: PORCELAIN VENEERS, SMILE MAKOVER WITH LASER GUM CONTOURING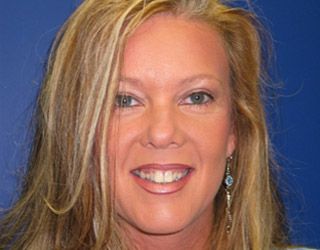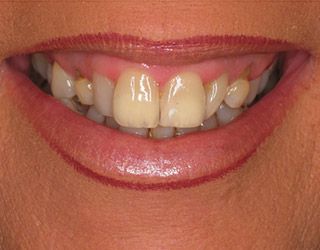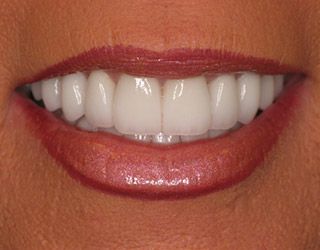 Rhonda had a very narrow upper jaw with dark yellow teeth. She wanted the whitest most brilliant smile possible and a fuller smile to complement her face and reflect her youth. Dr. Ajmo performed laser gum contouring to reshape Ronda's gumline and designed a Complete Smile Lift with Porcelain Veneers. Even though Rhondas' veneers are extremely white, they still have translucencies and contours that look as natural as possible.
Teeth Whitening and Dental Bonding
Teeth whitening and dental bonding are both used for teeth that need a freshen up, rather than a makeover as the veneers and crowns would do. Teeth whitening uses a specialty bleaching gel and bleaching light. Dental bonding is similar to porcelain veneer, but instead of porcelain it utilizes composite resin to repair the cracks and flaws in the tooth. However, dental bonding is not as durable as the veneers, and may not be recommended for patients who grind or clench their teeth.
Dental Implants and Cosmetic Porcelain Crowns
For very damaged teeth, whether from physical damage or from tooth decay, more complexprocedures may be needed. Porcelain crowns are reserved for teeth that are damaged, but are still moderately healthy. These crowns simply engulf the remaining tooth like a mask, but do not replace the tooth itself. Dental implants require a step further – for teeth that must be removed or are already missing, the dental implant takes its place by being embedded in the jaw. After integrating with the jaw bone, a prosthetic tooth is capped on top of the implant to resemble a natural-looking tooth.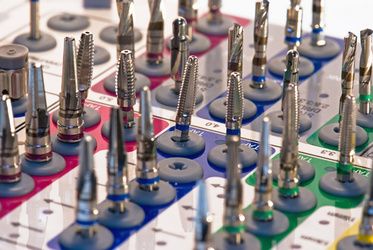 Cosmetic Crowns and Fixed Bridgework
Fixed bridgework is similar to dental implants on a level. If a tooth is missing or must be removed for the health of the surrounding teeth, a bridge can be used to cover the gap left behind. The two teeth on either side of the missing tooth would be filed down, and a prosthetic "bridge", made of three or more teeth, would be attached to the filed down teeth. While the side teeth are the anchors, the one in the middle fills the gap of the missing tooth.
Consult Dr. Ajmo About Smile Design
At PGA Dentistry in Palm Beach Gardens, FL, we understand the different challenges that each of our patient presents, but are driven to give you the best smile possible. If you currently have discolored or scarred teeth and would like to gain a great, confidence-boosting smile, contact us today for a free, no-obligation consultation with Dr. Ajmo. He will gladly discuss the benefits of smile design, what treatments would be best for you and any additional procedures that may be needed.
RECENT BLOG POSTS
Categories:
Dental Implants, Bone Graft
Author:
Date:
2015-05-11
Sometimes our patients have lost many teeth and waited quite some time to place dental implants.  Without your natural teeth, or implants in place, your jaw bone can begin to deteriorate.  This leads to the face having a "sunken" appearance.  For these patients it is necessary for Dr. Ajmo to perform a bone graft in order to create enough bone in the jaw for the implants to fuse with.  Learn more about bone grafts in today's blog article.
OFFICE HOURS
Monday-Friday 8am - 5pm
Please feel free to give us a call or stop by anytime if you have a question or would like to schedule an appointment.
PGA Dentistry
Palm Beach Gardens Office
7100 Fairway Dr Ste 59
Palm Beach Gardens, FL 33418