Each time you smile, you're giving a gift to the world, and at PGA Dentistry, we want to make sure you're confident enough to share that gift. If you are unhappy with the appearance of your smile, expressing yourself around other people can be difficult. Dr. Jay Ajmo performs smile design treatments at his Palm Beach Gardens office to help you recover your beautiful smile and restore your self-esteem. Your smile design will be custom-designed to enhance your natural beauty, highlight your best features, and conceal any cosmetic flaws in your teeth. To schedule a consultation, contact us today.

VIDEO: SANDY'S TESTIMONY
Sandy discusses her smile design experience at our Palm Beach Gardens practice.
During your first visit to our practice, Dr. Ajmo will sit down with you to discuss your options and goals during a one-on-one consultation. This initial appointment will involve taking photographs of your mouth and face, collecting information about your medical history and your expectations of your smile design, and organizing a customized treatment plan created just for you. Dr. Ajmo strives to produce outstanding aesthetic results with metal-free restorations and the highest quality materials.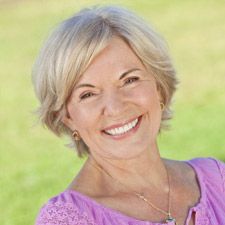 The Benefits
When damage or decay lead to the collapse of your teeth, a chain reaction begins; first your bite collapses, which causes your chin, nose, and lips to collapse on each other. Opening your bite and reconstructing your smile's structure will restore the aesthetics of your face and keep you looking as young as you feel and more confident than ever.
Candidacy
If excessive wear and tear on your teeth has caused your bite to suffer, your face to collapse, or your confidence to drop while having overall good oral health, you may be a candidate for a smile design. Dr. Ajmo can replace your old, outdated dental work and metal fillings, reconstruct your bite from the top to bottom, and make your smile shine like new again.
Common Treatment Combinations
Each of our smile design patients benefits from a unique, completely customized treatment plan, based on his or her individual goals and needs. However, some of the treatments we most commonly combine include:
Porcelain Veneers and Teeth Whitening

Teeth Whitening and Dental Bonding

Dental Implants and Cosmetic Porcelain Crowns

Cosmetic Crowns and Fixed Bridgework
Dr. Ajmo is an expert in reconstructive and cosmetic dentistry, dental implants, and dental sedation. He performs each treatment in the comfort of his Palm Beach Gardens office to make your smile design experience convenient and comfortable while putting you on the path to a winning smile.

A smile design is often performed before or after plastic surgery to complete your new and improved look. Restoring the form and function of your teeth will help ensure the quality of your surgical results.

The Cost
A smile design, as is any improvement to your health or your happiness, is an investment in your quality of life and well-being. Our knowledgeable and helpful team members can discuss payment and financing options with you to make sure you are informed and ready to move forward with your makeover. We understand that our Palm Beach Gardens, FL patients would be concerned with the price of a procedure. We gladly accept many major payment methods, and work hard with your insurance provider to give you the most economical procedure possible for your budget. What's important to note is that smile design procedures are a one-time investment for a long-lasting, bright smile.
Smile Design FAQ
Do you have questions about the process or the kinds of treatments we offer? Feel free to take a look at frequently asked questions we've received from patients, or contact us today to speak with one of our experienced team members.
Learn More about the Smile Design
Dr. Ajmo has dedicated his career to changing your smile to change your life. If you are unhappy with the way your teeth look and want to learn more about what a smile design can do for you, contact us in Palm Beach Gardens. Dr. Ajmo and the PGA Dentistry team would be happy to go over the smile design procedures we offer, the process, candidacy, and any other questions you may have. Reach out to us today!
RECENT BLOG POSTS
Categories:
Osseointegration, Dental Implants
Author:
Date:
2015-06-26
We get many questions about the reason it can take up to a few months for dental implants to heal.  Though there are full mouth procedures where you can leave with a brand new smile in one day (Teeth Next Day), many times the implantation of one or a few dental implants must "osseointegrate" with your jaw.  Osseointegration is the fusing of the implant with your jaw bone.
OFFICE HOURS
Monday-Friday 8am - 5pm
Please feel free to give us a call or stop by anytime if you have a question or would like to schedule an appointment.
PGA Dentistry
Palm Beach Gardens Office
7100 Fairway Dr Ste 59
Palm Beach Gardens, FL 33418