Are you embarrassed by your smile because of crooked or gapped teeth? Would you like to perfect your smile, but cringe at the thought of having to wear metal braces? For Palm Beach Gardens patients that wish to pretty up their smiles without unsightly metal, there is Invisalign.
Invisalign is a modern, gentle, and discreet way to straighten teeth and fix minor to moderate orthodontic issues. Invisalign aligners are custom crafted out of soft plastic to fit your unique smile and gently nudge your teeth into the smile of your dreams!
Candidates for Invisalign
Good candidates for Invisalign have healthy gums and have their second molars erupted already. Teens and adults are eligible for Invisalign if they meet these two requirements. Dr. Ajmo will determine eligibility in a consultation.

Dr. Ajmo will take an impression of your mouth and send it off to the 3-D printing lab to custom craft your aligners. You'll get your first aligner in our office and it will fit rather snugly on your teeth. The aligner will "push" your teeth into the first position. After wearing the first aligner for two weeks, you'll transition to the second aligner. You'll continue this cycle until your teeth are straightened into the desired final position. The average Invisalign treatment time is 12 months.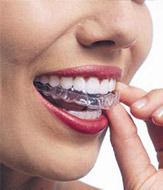 Invisalign Benefits
Comfortable: The aligners will never cut or irritate your mouth like metal brackets from braces can. This will help promote a healthy and active lifestyle for you.

Almost Invisible : Invisalign aligners are clear. Your friends will have to look extra close to detect any sign of braces.

Removable: Invisalign is removable for brushing, flossing, cleaning, and for any special occasion you choose to remove it for. Dr. Ajmo simply recommends you try to wear the aligners for at least 22 hours a day.

Convenience: You'll only need to stop by the office every six to eight weeks to make sure your treatment is going as planned. This leaves more time for you, and less time in the dental chair!
Contact Dr. Ajmo for Invisalign Treatment in Palm Beach Gardens, FL
It's time to get the smile of your dreams! Invisalign can provide quick, comfortable treatment just in time for weddings, graduations, or to simply remedy smile flaws that have always bugged you. Contact us today for a no-obligation consultation to find out the cost and time of treatment for your personal smile goals. We serve patients in Palm Beach Gardens and Jupiter, FL.
RECENT BLOG POSTS
Categories:
Osseointegration, Dental Implants
Author:
Date:
2015-06-26
We get many questions about the reason it can take up to a few months for dental implants to heal.  Though there are full mouth procedures where you can leave with a brand new smile in one day (Teeth Next Day), many times the implantation of one or a few dental implants must "osseointegrate" with your jaw.  Osseointegration is the fusing of the implant with your jaw bone.
OFFICE HOURS
Monday-Friday 8am - 5pm
Please feel free to give us a call or stop by anytime if you have a question or would like to schedule an appointment.
PGA Dentistry
Palm Beach Gardens Office
7100 Fairway Dr Ste 59
Palm Beach Gardens, FL 33418