Porcelain crowns have a wide variety of different uses in the world of dentistry. Whether you are correcting cosmetic issues or pursuing dental implants, chances are you've heard of cosmetic porcelain crowns. Porcelain crowns offer a variety of cosmetic and restorative treatments that can help our patients with many different issues they may have. However, cosmetic crowns are not a good treatment option for every patient. We encourage you to read on to learn more about what makes a good candidate for treatment with porcelain crowns.

What are Porcelain Crowns?
Porcelain crowns are hollow replacement teeth that are used to cover your natural teeth. They are commonly used to cover up cosmetic issues that may plague your natural teeth. They are also commonly used to top dental implants. When being used for cosmetic purposes, your original tooth is shaved down, creating a stable base to hold your crown. Then, scan and impressions are taken of your natural teeth, which will be used to help make a crown for you that matches your remaining natural teeth. This method ensures that once in place, no one will be able to tell the difference between your natural teeth and replacement crown.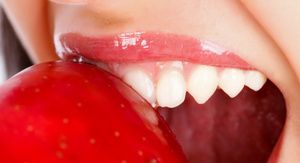 COMPLETE DENTAL RESTORATION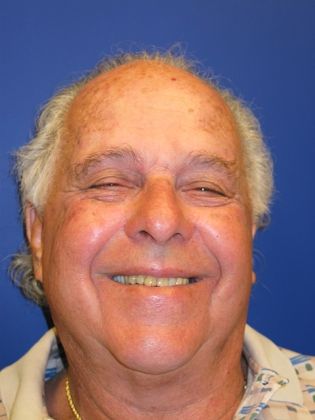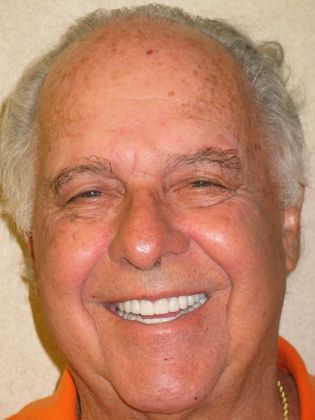 Ron's teeth were severely worn and cracked, but he experienced no pain. His wife asked him to please get his teeth fixed. Most of his dental work was at least 20 years old and failing. Dr. Ajmo saved all of Ron's teeth and restored his smile for good health and aesthetics. "My wife and I are so happy with the restoration Dr. Ajmo did. I look and feel so much healthier. Your office is fabulous." -Ron
Aspects of a Good Candidate for Porcelain Crowns
There are many situations where a crown might be a good option for our patients. These situations include:
Discolored teeth that will not respond to teeth whitening procedures
Poorly shaped or disproportionately small teeth
Cracked or chipped teeth
Teeth that lack support or strength
Decayed or damaged teeth
Chewing food is difficult or your bite is not aligned properly
Extensively worn teeth that can no longer support a filling or other restorative treatment
Protecting tooth structure after a root canal
Completing a dental implant restoration
Porcelain crowns provide beautiful restoration for teeth that are suffering from structural and cosmetic damage. They provide replacement teeth that are comfortable and effective.
Aspects of a Bad Candidate for Porcelain Crowns
While porcelain crowns provide realistic replacement teeth that are comfortable and stable, they are many situations where they may prove a bad treatment option. For instance, if you are suffering from more serious underlying dental conditions, such as gum disease or tooth decay, these conditions will need to be addressed before moving forward with a porcelain crown. This is because both of these conditions can still spread to other areas of your mouth, compromising even more of your teeth. While crowns are effective at repairing damage caused by both of these problems, they will not actually rid you of these conditions.
There are reasons other than your oral health that may also discourage you from pursuing treatment with porcelain crowns. For instance, some patients are uncomfortable with how much toothneed to be removed to support the crown. For these patients, Dr. Ajmo may recommend another option, such as dental bonding or porcelain veneers, instead of moving forward with crowns. Some patients may have teeth that are simply too damaged to support a porcelain crown. For these patients, the tooth may need to be removed, in which case another treatment such as a dental bridge or dental implant may be a better option for their treatment.
Enjoy Porcelain Crowns from the PGDentistry
Porcelain crowns are a great treatment for cosmetic issues as they provide realistic looking replacement teeth that are comfortable and stable. If you lack the support needed to keep a crown healthy, a dental implant can also be used, which will replace the entirety of your missing tooth. One the implant is successfully placed and healed, it will be fully capable of supporting a porcelain crown for the rest of your life. And, it will require no additional maintenance; you will simply have to brush and floss your teeth like you normally would. With all the options available to our patients using porcelain crowns, there is no longer any reason to tolerate a smile you don't love. If you would like to find out more about porcelain crowns and what makes a good candidate for treatment with them, we encourage you to contact us and schedule a no-obligation consultation with Dr. Ajmo at his Palm Beach Gardens, FL office today.
RECENT BLOG POSTS
Categories:
Dental Implants, Bone Graft
Author:
Date:
2015-05-11
Sometimes our patients have lost many teeth and waited quite some time to place dental implants.  Without your natural teeth, or implants in place, your jaw bone can begin to deteriorate.  This leads to the face having a "sunken" appearance.  For these patients it is necessary for Dr. Ajmo to perform a bone graft in order to create enough bone in the jaw for the implants to fuse with.  Learn more about bone grafts in today's blog article.
OFFICE HOURS
Monday-Friday 8am - 5pm
Please feel free to give us a call or stop by anytime if you have a question or would like to schedule an appointment.
PGA Dentistry
Palm Beach Gardens Office
7100 Fairway Dr Ste 59
Palm Beach Gardens, FL 33418