Dr. Ajmo Earns Diplomate ABOI Credential!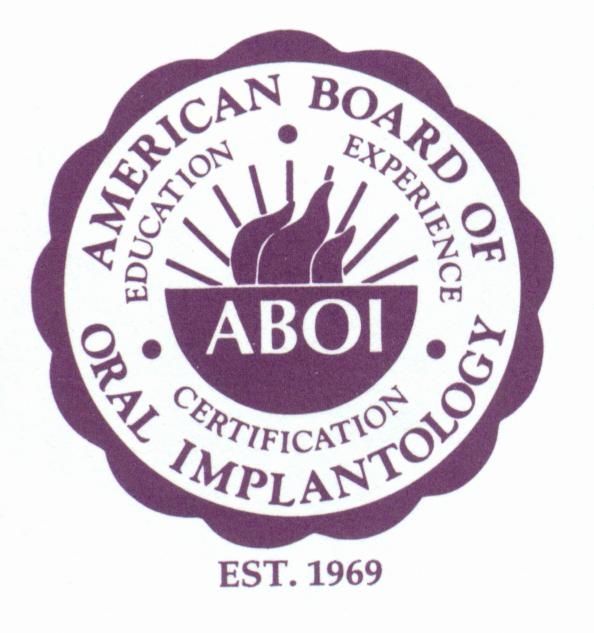 With over 160,000 Dentists in the United States, it can be difficult selecting the most skilled.  Finding a highly qualified expert in implant dentistry adds an additional layer of challenge to the search. One of the more discerning characteristics of top level, implant expertise is the breadth of certifications possessed. Dr. Jay L. Ajmo, has once again distinguished himself from the myriad of Dental Physicians by earning the Diplomate Certification by the American Board of Oral Implantology (ABOI). This certification is the most coveted and prestigious credential available to implants dentists today. Dr. Ajmo is now 1 of only 400 other Implant Experts in the world to have earned this honor.
The ABOI's mission is to elevate the standards and advance the science and art of implant dentistry. This special ABOI Diplomate designation symbolizes the highest level of competence in the field. In order to receive such a designation, Dr. Ajmo was required to demonstrate knowledge, ability, and proficiency in implant dentistry through a rigorous evaluation process.  Dr. Ajmo had to submit ten complex dental implant cases for evaluation involving unique situations that were successfully treated with long term positive results.  After a successful case review, he sat for a comprehensive written exam covering all areas of dental implantology.  Finally, he had to fly to the ABOI headquarters in Chicago for a lengthy oral exam in front of eighteen implant surgeons.
With over 25 years of experience, Dr. Ajmo is no stranger to high honors in his profession. He has also been named Diplomate Certified by the International Congress of Oral Implantologists, Diplomate Certified by the American Dental Implant Association, Board Certified in IV Sedation for total comfort, and voted "South Florida's Most Distinguished Cosmetic Dentist" by The Best of South Florida. Customer Testimonials indicate that he is revered by his patients. Alan Miller of Palm Beach Gardens, Fl. had this to say: "★★★★★ I've seen a number of qualified dentists over the years, but never have I had such a skilled expert treat me like Dr. Ajmo and his caring team. I would highly recommend them to anyone who wants the best!
Categories:
Osseointegration, Dental Implants
Author:
Dr. Jay Ajmo
Date:
2015-06-26
We get many questions about the reason it can take up to a few months for dental implants to heal.  Though there are full mouth procedures where you can leave with a brand new smile in one day (Teeth Next Day), many times the implantation of one or a few dental implants must "osseointegrate" with your jaw.  Osseointegration is the fusing of the implant with your jaw bone.
OFFICE HOURS
Monday-Friday 8am - 5pm
Please feel free to give us a call or stop by anytime if you have a question or would like to schedule an appointment.
PGA Dentistry
Palm Beach Gardens Office
7100 Fairway Dr Ste 59
Palm Beach Gardens, FL 33418