The Dangerous Effects of Smoking on Oral Health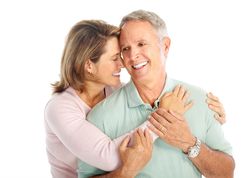 By now, most people are well aware of the hazards that smoking can have on one's general health. It is widely known that smoking is a leading cause of lung cancer and can even increase one's risk of a heart attack or stroke. What some may not realize is that smoking also has devastating consequences on one's oral health. Smoking can lead to dental problems that require restorative dentistry treatments to improve the structure, function, and strength of the teeth and/or gums and is also known to cause oral cancer. For our Palm Beach Gardens patients, the effects of smoking on oral health can be costly, in both the figurative and literal sense. Following are just some of the ways in which the smile can be affected by this unhealthy habit.
Tooth Discoloration and Stains
The carcinogens that are found in cigarettes are not only unhealthy, but they are also harmful to the aesthetics of the teeth. Smoking is known to cause tooth discoloration and surface stains that are not likely to respond to regular brushing. Teeth whitening can help, but if smoking continues, treatment will need to be repeated as stains and discoloration will continue to develop.
Dry Mouth
Smoking is one of the known causes of dry mouth, a condition in which the mouth becomes dry due to an insufficient production of saliva. Dry mouth is a condition that involves its own oral health problems, including bad breath, tooth decay, and gum disease.
Tooth Decay
All patients are susceptible to tooth decay, but smokers are at an increased risk for the condition. Smoking actually increases the amount of plaque in the mouth, which makes it more difficult to adequately clean the teeth with regular brushing and flossing. As plaque builds up, the teeth are likely to suffer from decay, which can range in severity and may require restorative treatment such as a dental filling or a dental crown.
Gum Disease
Just as the teeth are affected by excess levels of plaque, so are the gums. As plaque builds up, it will work its way beneath the gum line and can lead to gum disease. Smokers are also at an increased risk of gum disease because studies have shown that tobacco actually interferes with the function of the gum's cell tissues. As a result, smokers are more likely to acquire a gum infection and are more likely to suffer from the most advanced stages of gum disease.
Tooth Loss
Because smoking is likely to deteriorate the health of the gums, tooth loss is also a concern for smokers. When gum disease is present, the gums begin to recede, or pull away from the teeth. This causes the teeth to loosen, and can eventually lead to tooth loss.
Oral Cancer
Smoking is known to cause cancer, and it does not just cause lung cancer, but oral cancer as well. Oral cancer can cause mouth sores, bleeding in the mouth, numbness, pain, swelling, and a number of other unpleasant side effects. The best way to avoid oral cancer is to avoid the use of cigarettes and other tobacco products.
Schedule an Appointment
If you are a smoker, it is especially important to take the necessary steps to care for your oral health and treat the dental conditions that may result from this habit. Dr. Jay L. Ajmo offers a wide range of general, restorative, and cosmetic dental treatments that can help maintain the health and beauty of your smile. Schedule an appointment at your earliest convenience to learn more about these services and find out how we can help protect your smile.
Categories:
Osseointegration, Dental Implants
Author:
Dr. Jay Ajmo
Date:
2015-06-26
We get many questions about the reason it can take up to a few months for dental implants to heal.  Though there are full mouth procedures where you can leave with a brand new smile in one day (Teeth Next Day), many times the implantation of one or a few dental implants must "osseointegrate" with your jaw.  Osseointegration is the fusing of the implant with your jaw bone.
OFFICE HOURS
Monday-Friday 8am - 5pm
Please feel free to give us a call or stop by anytime if you have a question or would like to schedule an appointment.
PGA Dentistry
Palm Beach Gardens Office
7100 Fairway Dr Ste 59
Palm Beach Gardens, FL 33418