Choosing a Cosmetic Dentist: Dig into Credentials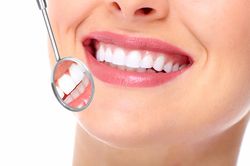 When you are looking for a cosmetic dentist, it is crucial that you know what credentials your dentist has. Because the American Dental Association doesn't recognize cosmetic dentistry as its own specialty, anyone may call themselves a cosmetic dentist. Learning to differentiate between the general dentists and the true experts who have undergone extensive training in cosmetic dentistry is important if you want the highest quality dental work done. Understanding the education and associations involved is the only way you will know whether or not a cosmetic dentist is truly an expert in the field.
Post Graduate Schooling
While an AACD accreditation certainly speaks volumes about the level of expertise of a cosmetic dentist, it won't tell you the whole story. There is a high level of technical skill required to become a proficient cosmetic dentist, so you will also want to ensure that a cosmetic dentist has received proper post-graduate training. Most dental schools don't offer training in cosmetic dentistry, so it is important to know that the dentist received more thorough training than that of a general dentist in the form of post graduate schooling with an emphasis on cosmetic dentistry. Two of the most prestigious post-graduate schools are the Rosenthal Institute for Cosmetic Dentistry, and the Misch International Implant Institute. While it may seem like a bit of a hassle to check the educational background of a prospective dentist, you want to be sure that your dentist received thorough training in a classroom before doing work in your mouth. 
American Academy of Cosmetic Dentistry
The most important credential to look for is an association with the American Academy of Cosmetic Dentistry (AACD). Dentists accredited by this worldwide organization are required to undergo extensive cosmetic dentistry education and training. They are also required to present five cosmetic dentistry cases to a panel of expert judges, pass written and oral exams, and maintain a strict set of standards and dentistry ethics. With the rigorous process involved in becoming an AACD accredited dentist, you can be sure that any cosmetic dentist listed in the AACD directory is a tier above the many other dentists who simply list cosmetic dentistry as a specialty. 
Diplomate Certifications
Another set of credentials to look for when selecting a cosmetic dentist is Diplomate certifications.  These credentials represent some of the highest levels of expertise in cosmetic dentistry.  Check to see if the cosmetic dentists you are considering are Diplomate Certified by the following: 
The American Board of Oral Implantologists. This certification is one of the most prestigious as only 400 dentists in the United States possess it. You must complete dental school through an ADA CODA accredited dental program and complete a two part exam, one being an extensive oral exam within four years to become a Diplomate.
The International Congress of Oral Implantologists. To become a Diplomate, one must provide 60 completed implant cases, 20 documented cases detailed on application, have 150 continuing implant education hours in the last five years, either have authored 3 articles on implant dentistry or presented 3 lectures on topic within last five years, have two letters of recommendations from Diplomates of the ICOI, and participated in the regional ICOI Diplomate exam.
The American Dental Implant Association. To become a Diplomate, the cosmetic dentist needs in-depth knowledge of implants and to be highly-trained. He or she should pass a rigorous exam and submit case studies and operative reports to prove his or her high skill levels.
Practical Experience
Once you have determined that your cosmetic dentist is qualified, don't forget to ask about his experience with the procedures that will be done to you. Are they something that the dentist encounters and does often, or is yours a rare case? Don't feel comfortable unless you know that the dentist has a lot of hands-on experience with any procedures you will receive.
Understanding what it is that makes a cosmetic dentist an expert in the field is truly important when it comes to choosing among several dentists. While a dentist may claim many accolades and awards, always check for accreditation with the AACD and post graduate education. The icing on the cake is a cosmetic dentist possessing Diplomate Certifications, these experts are truly the best of the best in the field. Be sure to do your homework and don't be afraid to verify credentials before you get any cosmetic dentistry work done.
Categories:
Osseointegration, Dental Implants
Author:
Dr. Jay Ajmo
Date:
2015-06-26
We get many questions about the reason it can take up to a few months for dental implants to heal.  Though there are full mouth procedures where you can leave with a brand new smile in one day (Teeth Next Day), many times the implantation of one or a few dental implants must "osseointegrate" with your jaw.  Osseointegration is the fusing of the implant with your jaw bone.
OFFICE HOURS
Monday-Friday 8am - 5pm
Please feel free to give us a call or stop by anytime if you have a question or would like to schedule an appointment.
PGA Dentistry
Palm Beach Gardens Office
7100 Fairway Dr Ste 59
Palm Beach Gardens, FL 33418