Choosing a Cosmetic Dentist: Don't be Ruled by Price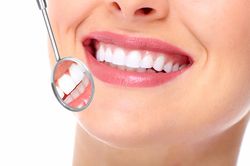 When you are looking at cosmetic dentistry procedures it can be tempting to compare prices of several dentists and go with the cheapest one, but it is imperative that you take into consideration other factors before you choose your dentist. In fact, price should be the last motivator in choosing a qualified dentist. In order to save yourself hassle in the long run, there are some reasons why price is not the most important factor when choosing a cosmetic dentist. Understanding why some expert cosmetic dentists are more expensive than general dentists will make you feel better about choosing the expert and spending a little more.
Because the field of dentistry is unregulated when it comes to cosmetic dentistry, any dentist can claim to practice cosmetic dentistry. In fact, getting a procedure done at one of these dentists may be cheaper than an expert cosmetic dentist, but the results are often nowhere near the same. Accredited cosmetic dentists work hard to stay up-to-date with the latest technology and procedures. Oftentimes, practicing advanced methods may cost more up-front due to the ever changing schooling, training, and the cost of technology and state of the art equipment needed to implement the latest and best cosmetic dentistry procedures.
A good cosmetic dentist will utilize the latest and greatest equipment, and this gets very costly. Expensive dentists aren't charging a lot because they want to pocket a lot of cash, they are often charging because they have very high overhead costs in their equipment. This equipment isn't frivolous however, and it can make all the difference in the outcome of your mouth. In the same manner, a dentist who uses quality materials in your mouth, such as zirconia bridges, will often charge more because these materials cost more than sub-par alternatives, such as acrylic bridges. Dentists who try and cut corners on costs by using outdated equipment and materials often can't provide the same level of quality results as those who use modern methods and machinery.
An expert cosmetic dentist has to go through advanced training and schooling, but that education doesn't pay for itself. Most professional cosmetic dentists cost more than their general dentist counterparts simply because they have more advanced training. These higher costs reflect the cosmetic dentist's commitment to providing you with the best service possible. Think about it this way: if you are trusting someone with the reconstruction of your smile, wouldn't you want the person that has the most training and experience, even if it costs a little more?
If price is a factor, keep in mind that almost all cosmetic dentists will offer financing options to help alleviate costs. While the cost of a good cosmetic dentist is often more than that of a general dentist, it isn't worth risking your smile with a dentist that has anything but the best equipment and training.
Categories:
Osseointegration, Dental Implants
Author:
Dr. Jay Ajmo
Date:
2015-06-26
We get many questions about the reason it can take up to a few months for dental implants to heal.  Though there are full mouth procedures where you can leave with a brand new smile in one day (Teeth Next Day), many times the implantation of one or a few dental implants must "osseointegrate" with your jaw.  Osseointegration is the fusing of the implant with your jaw bone.
OFFICE HOURS
Monday-Friday 8am - 5pm
Please feel free to give us a call or stop by anytime if you have a question or would like to schedule an appointment.
PGA Dentistry
Palm Beach Gardens Office
7100 Fairway Dr Ste 59
Palm Beach Gardens, FL 33418