The Causes of Tooth Erosion and How It Can Be Treated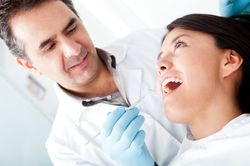 At the PGA Center for Advanced Dentistry here in Palm Beach Gardens, we believe in proper treatment as well as expert prevention. This is particularly important for issues that affect the overall strength of a tooth. This is why we offer the latest in restorative dentistry techniques and technologies as well as advanced general dental care, allowing us to best serve every patient who visits the practice.
One issue that we notice a fair amount in patients is tooth erosion, which is a distinct issue from tooth decay. We'd like to discuss this matter in basic terms right now.
About Tooth Erosion
Also known as dental erosion and acid erosion, tooth erosion refers to the damage done to the enamel on the teeth when a person has an acidic pH in their mouth. The acidic pH will weaken overall tooth structure with time and leave the teeth discolored and worn, making cracks and breaks of the tooth more likely.
How is tooth erosion different from cavities/tooth decay?
While many people think that tooth erosion and tooth decay are the same, they are actually different. Both problems lead to tooth damage, but the causes differ.
Tooth decay is caused by the oral bacteria that naturally occurs in the mouth. After feeding on food particles on the teeth, the bacteria produces a harmful substance known as plaque that eats away at tooth structure.
With this in mind, it is possible for tooth decay and tooth erosion to occur simultaneously.
Common Causes of Tooth Erosion
The most common causes of tooth erosion are as follows:
Citrus juices
Soft drinks
Beer
Coffee
Vinegar
Acid reflux
Gastric fluid
Note: Tooth Erosion as a Sign of an Eating Disorder
You'll note gastric fluid as a cause of tooth erosion above. This refers to the acid found in the digestive tract contained in vomit. One of the most signs of bulimia is tooth erosion. It's important for parents to note any major changes in their child's weight as well as a decline in their dental health so that their child can receive professional treatment for their eating disorder as soon as possible.
Treating Tooth Erosion
In order to treat tooth erosion, the best option is restorative care. This means the use of dental fillings, inlays, onlays, or dental crowns in order to rebuild the damaged tooth structure and restore the overall health of the patient's damaged teeth. The ideal dental restoration for the patient will be defined by the extent of the damage.
If the tooth erosion is a side effect of bulimia or a digestive tract problem of some kind, it's important that the patient undergo medical treatment to address the root cause of the tooth erosion. This will prevent further problems with oral pH in the future.
Tips for Preventing Tooth Erosion
Here are a few things that you can do to improve the pH of your mouth and prevent acid erosion:
Drink water to stay hydrated and balance your mouth's pH
Rinse your mouth out with water after having an acidic beverage
Reduce your intake of soft drinks
Drink acidic beverages through a straw to prevent contact with the teeth
Wait at least an hour to brush your teeth after having an acidic beverage
Use a fluoride toothpaste to help strengthen your tooth enamel
Use a soft bristled toothbrush to prevent damage to your tooth enamel
Schedule a Consultation for Advanced Dental Treatment
For more information about tooth erosion and how our team can treat this dental problem, be sure to visit the PGA Center for Advanced Dentistry. To schedule a consultation with Dr. Jay Ajmo, contact our cosmetic and restorative dentistry practice today. We look forward to seeing you in person.
Categories:
Osseointegration, Dental Implants
Author:
Dr. Jay Ajmo
Date:
2015-06-26
We get many questions about the reason it can take up to a few months for dental implants to heal.  Though there are full mouth procedures where you can leave with a brand new smile in one day (Teeth Next Day), many times the implantation of one or a few dental implants must "osseointegrate" with your jaw.  Osseointegration is the fusing of the implant with your jaw bone.
OFFICE HOURS
Monday-Friday 8am - 5pm
Please feel free to give us a call or stop by anytime if you have a question or would like to schedule an appointment.
PGA Dentistry
Palm Beach Gardens Office
7100 Fairway Dr Ste 59
Palm Beach Gardens, FL 33418