Traditional Porcelain versus Zirconia Dental Bridges in North Palm Beach, FL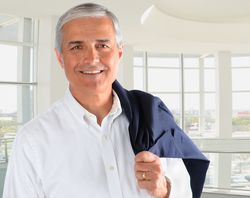 A dental bridge is a type of dental restoration that replaces one tooth, multiple missing teeth, or an entire mouth of teeth.  There are two types of bridges used: one works by having a prosthetic tooth or teeth attached to a crown on either side, in order to create a bridge for the prosthetic tooth to tether to and be stable in your mouth; the other bridge that can be used is a bridge that is attached permanently to dental implants. The two most commonly used materials of bridges are porcelain and zirconia. While porcelain is the traditional material, zirconia is starting to show a wide range of benefits for patients in North Palm Beach.
Traditional Porcelain Dental Bridges
The traditional dental bridges use porcelain, which is a strong and durable material that can be shaped and made to look just like a natural teeth. It is made with the same size, shape and color of your nearby teeth so it doesn't stand out. Porcelain can also handle most tooth functions, including chewing. There is easy maintenance of porcelain dental bridges simply by brushing and flossing it regularly.
Zirconia Dental Bridges
The newest and most advanced material for dental bridges is zirconia, which is a stronger and more durable material than porcelain. The main benefit of zirconia over porcelain is that it can handle more biting pressure, back teeth grinding, and never chips or stains.
Choosing Zirconia
There are many reasons to choose zirconia over porcelain for your dental bridge in the North Palm Beach area. First of all, the material tends to last longer and is more durable. This means you don't have to return to your dentist for a new restoration as quickly as with porcelain, and there is less worry when you are chewing different types of foods. The outer appearance also looks more like a natural tooth, giving you more confidence when smiling wide with your bridge. 
Categories:
Osseointegration, Dental Implants
Author:
Dr. Jay Ajmo
Date:
2015-06-26
We get many questions about the reason it can take up to a few months for dental implants to heal.  Though there are full mouth procedures where you can leave with a brand new smile in one day (Teeth Next Day), many times the implantation of one or a few dental implants must "osseointegrate" with your jaw.  Osseointegration is the fusing of the implant with your jaw bone.
OFFICE HOURS
Monday-Friday 8am - 5pm
Please feel free to give us a call or stop by anytime if you have a question or would like to schedule an appointment.
PGA Dentistry
Palm Beach Gardens Office
7100 Fairway Dr Ste 59
Palm Beach Gardens, FL 33418