What is a Bone Graft in Jupiter, FL?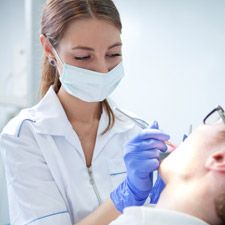 Bone grafting is an advanced dental procedure offered by a cosmetic dentist in the Jupiter, FL area that creates bone tissue for procedures such as dental implants. If your jawbone has started to deteriorate because of advanced gum disease or other issues, a bone graft can be created from bone tissue elsewhere in your body, as well as transplanted bone from another donor. It is a long process, but one that helps generate bone for your dental procedure in order to receive a solution that looks, feels, and functions like you natural teeth.
Reasons to Get a Bone Graft
With dental work, the main reason to receive a bone graft in the Jupiter< FL area is for any implanted devices. Implants in dental work go right into your jaw bone in the space of you missing tooth/teeth. If the tooth has been missing for an extended period of time, the bone has probably started to deteriorate and may require bone grafting for sufficient jaw bone depth, and strength to hold the implanted device. 
The Bone Graft Procedure
When you arrive for your bone grafting appointment, your Jupiter, FL area dentist will first either numb the area or use IV Sedation so you are less aware for the procedure. An incision is made in the gum above where the bone is needed, and the donated bone is fitted to this area and held with securely in place by dental attachments. The incision is closed and you are left to heal while the bone begins to fuse; this process is called osseointegration. 
How Long it Takes
The length of time bone grafting takes depends on a number of factors. For most patients, it will take a month or so, but the length of time can be a few weeks to five or six months depending on the size of the graft and location. You may have some discomfort after the procedure, so be sure to take pain relief medications prescribed to you. It is vital that you not smoke cigarettes while the bone grafting is taking place as it negatively affects the healing process. Be healthy, keep your teeth and gums clean, and let your dentist know if you are experiencing anything unusual.
Categories:
Osseointegration, Dental Implants
Author:
Dr. Jay Ajmo
Date:
2015-06-26
We get many questions about the reason it can take up to a few months for dental implants to heal.  Though there are full mouth procedures where you can leave with a brand new smile in one day (Teeth Next Day), many times the implantation of one or a few dental implants must "osseointegrate" with your jaw.  Osseointegration is the fusing of the implant with your jaw bone.
OFFICE HOURS
Monday-Friday 8am - 5pm
Please feel free to give us a call or stop by anytime if you have a question or would like to schedule an appointment.
PGA Dentistry
Palm Beach Gardens Office
7100 Fairway Dr Ste 59
Palm Beach Gardens, FL 33418