Why Do I Need Dental X-rays in Palm Beach, FL?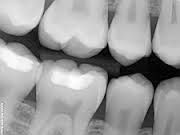 Dental x-rays, also called dental radiographs, are essentially pictures of teeth, bones and soft tissues which are used to help diagnose and treat any dental issue that may arise.  Dental x-rays can find cavities, hidden dental structures such as malignant or benign masses, wisdom teeth and bone loss that cannot be found during a dental examination at PGA Dentistry in Palm Beach, FL.
A radiographic image is a technique that uses electromagnetic radiation to view the internal structure of the teeth and jaw.  A burst of radiation penetrates the structure and depending on its density will show light and dark areas.  Cavities, infections and changes in bone density will appear darker because these structures are less dense.
There are many concerns about radiation exposure, but according to the American Dental Association, the amount of radiation is typically minimal.  It's very similar to and airplane flight taken cross- country.  Your dental professional should take any necessary precautions such as the use of a lead apron with a thyroid collar attached.  They will also step out of the room while the x-ray is being taken.
Dr. Jay Ajmo uses many types of dental x-rays with small amounts of radiation.  Bitewing x-rays, usually taken once a year, show the upper and lower back teeth and how the teeth touch in a single view.  These x-rays show decay between the teeth and also gum disease and bone loss.  Periapical x-rays show the entire tooth, from top to bottom (crown to root).  These x-rays are used to show dental issues below the gum line or jaw such as abscesses, cysts, impacted teeth and changes in bone.  Panoramic x-rays are taken to show the sinuses, floor or roof of mouth and temporomandibular joints (TMJ).  This type of x-ray will not find cavities, but is used as an excellent diagnostic tool for any fractures, tumors or abnormalities not seen with the naked eye.  As a new patient, Dr. Jay Ajmo will recommend a full set of dental x-rays (FMX) in which all these types of x-rays will be incorporated as an initial diagnostic tool.  An fmx is generally taken every 3-5 years, as well as a panoramic film.
Dental x-rays are an integral part of a dental examination and are critical in diagnosing any abnormalities not seen upon visual examination.  You will have minimal radiation exposure when correct precautions are taken.  At PGA Dentistry in Palm Beach, FL, we pride ourselves in the training and expertise in this area.  Call us today for an evaluation by Dr. Jay Ajmo!
Categories:
Osseointegration, Dental Implants
Author:
Dr. Jay Ajmo
Date:
2015-06-26
We get many questions about the reason it can take up to a few months for dental implants to heal.  Though there are full mouth procedures where you can leave with a brand new smile in one day (Teeth Next Day), many times the implantation of one or a few dental implants must "osseointegrate" with your jaw.  Osseointegration is the fusing of the implant with your jaw bone.
OFFICE HOURS
Monday-Friday 8am - 5pm
Please feel free to give us a call or stop by anytime if you have a question or would like to schedule an appointment.
PGA Dentistry
Palm Beach Gardens Office
7100 Fairway Dr Ste 59
Palm Beach Gardens, FL 33418