What Are Porcelain Veneers in Jupiter, FL?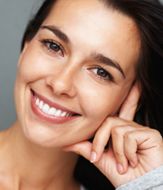 Dental veneers, also known as porcelain veneers, are wafer-thin, custom-made shells of tooth colored material that are designed to cover the facial surface of your teeth.  Porcelain veneers are used to correct worn tooth enamel, uneven tooth alignment or spacing, discoloration and chips or cracks to improve the appearance of your smile.
Porcelain veneers are generally considered cosmetic because they create a bright, white smile with beautifully aligned teeth, but ultimately they protect the surface of damaged teeth and can possibly eliminate the need for additional, more extensive treatments. Other benefits include durability, improved smile appearance, and minimally invasive removal of the tooth structure compared to crowns.
Porcelain veneers are designed to fix many types of problems such as discolored teeth, due to root canal treatment, stains from tetracycline or other drugs, worn down, broken teeth, misaligned, uneven or irregularly shaped teeth and gaps or spaces between teeth.
Dental veneers are made of porcelain and are fabricated by a dental technician in a local dental lab.  Cutting veneers usually requires three trips to the dentist- one for a consultation for evaluation of your smile, in which Dr. Jay Ajmo will do a comprehensive exam to evaluate that porcelain veneers are right for you.  You will need x-rays and impressions of your mouth and teeth will be done.  The second visit will consist of Dr. Jay Ajmo getting you numb and removing approximately ½ mm of enamel from the tooth structure.  Once the prepping of each tooth is completed, another model will be taken and this is sent to the lab.  Temporary veneers will then be placed so that you leave our office with a beautiful smile.  On your third visit, approximately two week later, the porcelain veneers will be ready to be permanently bonded to your teeth.  The temporaries will be removed and the veneers bonded.  Adjustments to your bite will be made and excess cement removed.  Dr. Jay Ajmo will ask you to return for a follow-up a few weeks after to evaluate gum tissue and do a bite check.
So give us a call today and schedule your complimentary consultation with Dr. Jay Ajmo at PGA Center for Advanced Dentistry.
Categories:
Osseointegration, Dental Implants
Author:
Dr. Jay Ajmo
Date:
2015-06-26
We get many questions about the reason it can take up to a few months for dental implants to heal.  Though there are full mouth procedures where you can leave with a brand new smile in one day (Teeth Next Day), many times the implantation of one or a few dental implants must "osseointegrate" with your jaw.  Osseointegration is the fusing of the implant with your jaw bone.
OFFICE HOURS
Monday-Friday 8am - 5pm
Please feel free to give us a call or stop by anytime if you have a question or would like to schedule an appointment.
PGA Dentistry
Palm Beach Gardens Office
7100 Fairway Dr Ste 59
Palm Beach Gardens, FL 33418