What you should know about Sedation Dentistry in North Palm Beach, FL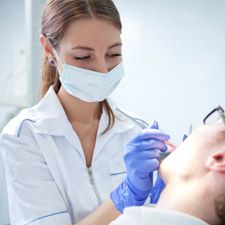 Does thinking about having dental work making you feel anxious? Have you not visited a dentist in years due to your fear?  If so, you're not alone.  In fact, 7 out of 10 Americans have some form of dental anxiety.  If you are one of these millions of people, then you can take comfort in the fact that sedation dentistry is available to ease such symptoms. Sedation is when medications are used in a dentist's office in an effort to help their patients reach a state of relaxation.
There are numerous benefits to using sedation dentistry in North Palm Beach. Because the effects are felt by the patient immediately, this form of sedation is shown to be quite effective for those who are experiencing moderate to severe anxiety prior to procedures.
Inhaled Conscious Sedation
The most common type of sedation used for dental procedures is laughing gas, which is also referred to as inhaled conscious sedation. This gas is comprised of nitrous oxide and oxygen. For more severe cases of dental phobia, IV Sedation may be the best choice.  While there are a number of other advantages to the use of inhaled conscious sedation in North Palm Beach, it is not recommended for those who experience respiratory issues such as asthma. In addition, if you are a sufferer of claustrophobia, the idea of wearing the mask over your face may not be appealing.
IV Sedation
IV sedation will offer patients with severe dental anxiety the relief they need to undergo dental procedures.  The effects are felt immediately and patients report a dream-like state where they have little awareness of the procedure being performed.  Patients also report little to no memory of the procedure making more intricate procedures possible. Those with anxiety and a low threshold for pain may need to consider IV sedation in order to have the best possible experience. Your dentist can walk you through all your options and provide the best plan for you.
The best thing to do is to contact your Sedation Dentist in the North Palm Beach area immediately in order to obtain more information about use of sedation dentistry. That way, you can develop a plan and determine if it is right for you.
Categories:
Osseointegration, Dental Implants
Author:
Dr. Jay Ajmo
Date:
2015-06-26
We get many questions about the reason it can take up to a few months for dental implants to heal.  Though there are full mouth procedures where you can leave with a brand new smile in one day (Teeth Next Day), many times the implantation of one or a few dental implants must "osseointegrate" with your jaw.  Osseointegration is the fusing of the implant with your jaw bone.
OFFICE HOURS
Monday-Friday 8am - 5pm
Please feel free to give us a call or stop by anytime if you have a question or would like to schedule an appointment.
PGA Dentistry
Palm Beach Gardens Office
7100 Fairway Dr Ste 59
Palm Beach Gardens, FL 33418