Smile and Laugh With Confidence- Everyone Can Have a Beautiful Smile!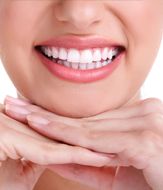 Crowns can not only completely rejuvenate a smile…they can change your outlook on life.  Are you missing teeth, causing you to be self-conscious? Do you find yourself covering your smile? Don't be embarrassed any longer- we can help.
Crowns & Bridges can give you the smile of your dreams!
*Fix stained or worn-down restoration that add years to your appearance
*Correct teeth that are tilting and shifting because of a gap
*Repair teeth that have been severely damaged through decay, grinding, a bad bite, injury or medications.
Call for a consultation today!
Categories:
Dental Implants, Bone Graft
Author:
Dr. Jay Ajmo
Date:
2015-05-11
Sometimes our patients have lost many teeth and waited quite some time to place dental implants.  Without your natural teeth, or implants in place, your jaw bone can begin to deteriorate.  This leads to the face having a "sunken" appearance.  For these patients it is necessary for Dr. Ajmo to perform a bone graft in order to create enough bone in the jaw for the implants to fuse with.  Learn more about bone grafts in today's blog article.
OFFICE HOURS
Monday-Friday 9am - 5pm
Please feel free to give us a call or stop by anytime if you have a question or would like to schedule an appointment.
PGA Advanced Dentistry
Palm Beach Gardens Office
7100 Fairway Dr Ste 59
Palm Beach Gardens, FL 33418
561-627-8666