The Zoom!® Teeth Whitening Technique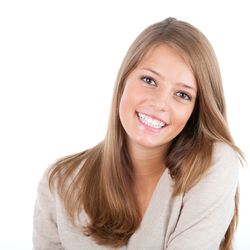 When was the last time you were proud of how your teeth looked? For many people, a once beautiful smile has been diminished by years of accumulated stains. And try as they might, home hygiene and even whitening products simply don't seem to do much. With a professional whitening procedure, on the other hand, patients can gain a much more significant improvement in the shade of their teeth.
As offered at our Palm Beach Gardens dental practice, Zoom!® teeth whitening gel can remove stains and brighten teeth almost instantly. Through an in-office procedure or a take-home kit, you can safely and effectively achieve the brilliant smile you desire.  
What Is Zoom!® Teeth Whitening?
Like many teeth whitening techniques, Zoom!® utilizes a hydrogen peroxide gel that is applied to teeth. Unlike over-the-counter products, however, the gel contains a high enough concentration of the bleaching agent to produce significant results. Moreover, treatment is customized to suit each patient's needs, delivering an appropriate amount of whitening while maximizing comfort and minimizing risks.
Zoom!® whitening gel also includes amorphous calcium phosphate (ACP), which is proven to reduce tooth sensitivity and help re-mineralize enamel to maintain healthy teeth.  
Is Teeth Whitening Permanent?
With good, consistent hygiene habits after treatment, patients can expect their teeth to remain whiter for years. Treatment cannot prevent future discoloration, but it will help remove and reduce surface stains that have already amassed on teeth. Therefore, professional teeth whitening is permanent in the sense that your teeth will always be whiter than if you had not undergone treatment.
How Does In-Office Whitening Work?
In one hour or less, you can complete a full whitening session to brighten your smile by up to eight shades on average. The procedure is as follows:
Teeth will be isolated from the lips, cheeks, and gums, to aid in the proper application of the gel.
The whitening gel will be carefully applied over teeth.
A special light will be used to activate the gel, accelerating the process by which it is absorbed into the enamel.
After 15 minutes, the gel will be removed and you will rinse your mouth in preparation for a second application.
This process will be repeated two additional times for a total of three whitening applications.
When treatment is complete, you will see an immediate difference in the shade of your smile. Stains from food, drink, and any tobacco products will be greatly reduced, enhancing your overall smile.
The most common side effect after whitening treatment is heightened tooth sensitivity, which usually persists for 24 to 48 hours. The degree of sensitivity varies, but can be lessened by using desensitizing toothpaste and avoiding hot or cold temperatures from coming in contact with teeth.  
Zoom!® Teeth Whitening At Home
Some patients may prefer to whiten their teeth in the comfort of their own home. With a take-home kit by Zoom!®, you can benefit from results that are comparable to in-office whitening but in a way that may better suit your schedule and needs. The kit utilizes a tray that is customized to fit your teeth, through which the gel is applied and left on for a specified time. Because the bleaching agent is less concentrated and there is no light to accelerate the process, home whitening requires multiple sessions over the course of one to two weeks.
One popular reason for whitening at home is that it can be more comfortable for patients with sensitive teeth. Although the whitening sessions are longer and more numerous, they are less likely to produce the sort of discomfort that patients may otherwise endure from the intensive treatment provided in our cosmetic dentistry office. Before opting for a whitening treatment, speak with Dr. Ajmo to better understand the benefits and drawbacks of each technique.  
Enhance Your Smile with Us
Visit our office to gain a more personal understanding of how professional whitening can benefit you. Contact us to inquire further and to schedule your initial consultation.
Categories:
Osseointegration, Dental Implants
Author:
Dr. Jay Ajmo
Date:
2015-06-26
We get many questions about the reason it can take up to a few months for dental implants to heal.  Though there are full mouth procedures where you can leave with a brand new smile in one day (Teeth Next Day), many times the implantation of one or a few dental implants must "osseointegrate" with your jaw.  Osseointegration is the fusing of the implant with your jaw bone.
OFFICE HOURS
Monday-Friday 8am - 5pm
Please feel free to give us a call or stop by anytime if you have a question or would like to schedule an appointment.
PGA Dentistry
Palm Beach Gardens Office
7100 Fairway Dr Ste 59
Palm Beach Gardens, FL 33418