Enjoy a Decadent Brunch- Rich with Superfoods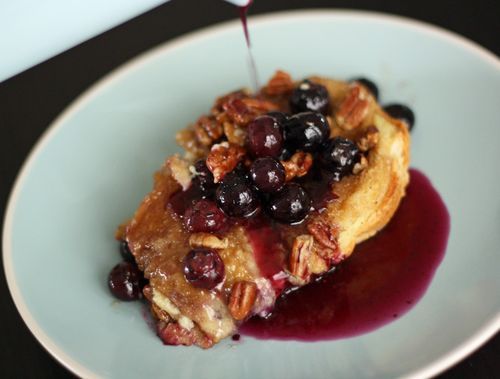 Consider the following menu…Perfectly poached eggs, Cinnamon French Toast with warm Blueberry Preserves, Black Tea with a dash of Buckwheat Honey.  This sounds like an indulgent brunch, yet all elements contain superfoods- extremely nutrient-rich food which help prevent disease.
Eggs- Rich in Vitamin D (strengthens bones and teeth) and high in essential nutrient choline (aids heart and brain health)
Cinnamon- Anti-inflammatory (may reduce risk of gum disease) and helps control insulin levels.
Blueberries- One of the best antioxidant sources and high Vitamin C supports healthy gums.
Black Tea- Helps prevent dementia and lowers cholesterol
Honey- Anti-microbial properties (helps fight mouth and throat infections).
When combined with a varied and balanced diet, these superfoods can help you live a healthier more delicious life!
Categories:
Dental Implants, Bone Graft
Author:
Dr. Jay Ajmo
Date:
2015-05-11
Sometimes our patients have lost many teeth and waited quite some time to place dental implants.  Without your natural teeth, or implants in place, your jaw bone can begin to deteriorate.  This leads to the face having a "sunken" appearance.  For these patients it is necessary for Dr. Ajmo to perform a bone graft in order to create enough bone in the jaw for the implants to fuse with.  Learn more about bone grafts in today's blog article.
OFFICE HOURS
Monday-Friday 9am - 5pm
Please feel free to give us a call or stop by anytime if you have a question or would like to schedule an appointment.
PGA Advanced Dentistry
Palm Beach Gardens Office
7100 Fairway Dr Ste 59
Palm Beach Gardens, FL 33418
561-627-8666