What to Expect When Recovering from Dental Implant Surgery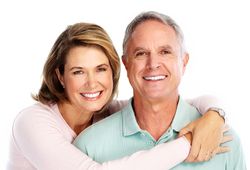 At PGA Center for Advanced Dentistry in Palm Beach Gardens, dental implant surgery recovery is explained in detail by Dr. Jay L. Ajmo during initial consultations with implant dentistry candidates before they even decide whether to undergo the procedure. As a trusted cosmetic dentist with years of experience, Dr. Ajmo believes in providing patients with comprehensive education about the procedures they plan to undergo so that they can make the most confident and informed choices possible regarding their treatment. In the case of dental implants, many patients are surprised to learn that the recovery period after surgery is generally quick and comfortable, although it is highly dependent upon the individual case.
Immediately after Dental Implant Surgery
Your dental implant surgery will be performed while you are under either a local anesthetic or IV sedation. If you are under IV sedation, you should be prepared to have someone drive you to and from your appointment, as you will be drowsy once you awaken. If you are under a local anesthetic, you will be numb for a few hours after the procedure, but otherwise able to function normally.
Depending on the extent of your surgery, you may be able to return to normal activities on the day of your surgery, though it is never a bad idea to take the rest of the day off and simply take it easy, if possible. If you are numb from a local anesthetic, wait until the sensation returns to your mouth before you chew or drink hot liquids.
The First Few Days after Surgery
You will experience some bleeding in the first day or two after your dental implant surgery. This can be controlled by exerting pressure on the surgical site by biting down on a gauze pack. Any facial swelling can be minimized through the application of ice packs to the sides of the face.
During this period, you should avoid rinsing, spitting, and drinking through a straw. You will probably have some general facial discomfort with pain at the implant site. Dr. Ajmo will recommend pain medications that you can take to control the pain, and may prescribe pain relievers that will help you minimize your discomfort in the days following surgery. He may also prescribe antibiotics to prevent infection.
The First Few Weeks Following Surgery
It is important that you follow Dr. Ajmo's post-surgical instructions to the letter to ensure proper healing and the long-term success of your dental implants. It is particularly important that you follow his instructions carefully during the first two weeks after surgery, as this is the make-or-break period when it comes to your dental implants. During this time, you should:
Not smoke (preferably smokers will quit smoking for the sake of their oral and overall health)
Minimize or eliminate alcohol consumption
Eat soft foods
Avoid hard, crunchy, or chewy foods such as popcorn and nuts
Maintain a good oral hygiene regimen
Rinse using salt-water or an anti-microbial rinse as directed (once you are no longer bleeding at the implant site)
Follow any specific instructions given to you by Dr. Ajmo
Schedule Your Dental Implant Consultation Today
If you are missing one or more of your missing teeth and would like to learn more about dental implants, please contact Dr. Jay L. Ajmo today to schedule your initial consultation.
Categories:
Osseointegration, Dental Implants
Author:
Dr. Jay Ajmo
Date:
2015-06-26
We get many questions about the reason it can take up to a few months for dental implants to heal.  Though there are full mouth procedures where you can leave with a brand new smile in one day (Teeth Next Day), many times the implantation of one or a few dental implants must "osseointegrate" with your jaw.  Osseointegration is the fusing of the implant with your jaw bone.
OFFICE HOURS
Monday-Friday 8am - 5pm
Please feel free to give us a call or stop by anytime if you have a question or would like to schedule an appointment.
PGA Dentistry
Palm Beach Gardens Office
7100 Fairway Dr Ste 59
Palm Beach Gardens, FL 33418