Look Younger Tomorrow- What Palm Beach Gardens Dentist, Dr. Jay Ajmo Can Do For You!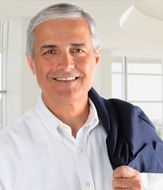 Maybe you can't put the toothpaste back in the tube, but it's never too late to put the zing back in your smile.  Of all the excellent options available to restore damaged, discolored or missing teeth, crown and bridges are among the most popular.  You'll feel and look so much healthier and more youthful that crowns and bridges will do wonders for your self-confidence!
Crowns:
*Crowns are used to restore and strengthen teeth that are damaged, misshapen, discolored or whose strength is compromised by too many fillings.
*They can cover and reinforce an existing tooth, attach a bridge, or replace a missing tooth when anchored to a dental implant.
*Care for your crowns, as you would your natural teeth, with regular brushing, flossing and dental checkups.
Bridges:
*Permanent bridges are cemented to one or more teeth on either side of a space, to support artificial replacement tooth.
*Bridges help maintain your face shape and alleviate the stress in your bite.
*Care for your bridge by brushing and flossing as usual and by flossing under the replacement tooth.We'll show you how.
You don't have to live with damaged or missing teeth. Crowns and bridges will improve the esthetics and function of your smile and give you greater self-assurance. We're here to discuss the option that's best for you. Look younger tomorrow by calling us today.
Categories:
Osseointegration, Dental Implants
Author:
Dr. Jay Ajmo
Date:
2015-06-26
We get many questions about the reason it can take up to a few months for dental implants to heal.  Though there are full mouth procedures where you can leave with a brand new smile in one day (Teeth Next Day), many times the implantation of one or a few dental implants must "osseointegrate" with your jaw.  Osseointegration is the fusing of the implant with your jaw bone.
OFFICE HOURS
Monday-Friday 8am - 5pm
Please feel free to give us a call or stop by anytime if you have a question or would like to schedule an appointment.
PGA Dentistry
Palm Beach Gardens Office
7100 Fairway Dr Ste 59
Palm Beach Gardens, FL 33418