Your Gums Your Body- Attention: Important Health Link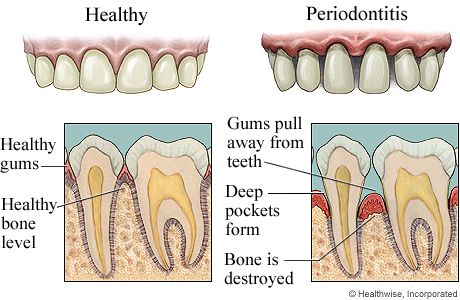 When your parents encouraged you to care for your teeth, they may not have realized that they were also helping your care for your gums and body.  Today we know the importance of periodontal (gum) care, and that its disease can exacerbate other health problems, including serious and life-threatening ones.
SYMPTOMS:  Gum disease can advance with symptoms, but warning signs can include red, swollen or bleeding gums, bad breath or loose teeth
CAUSES:  The mildest form of gum disease, gingivitis, is caused by inadequate oral hygiene, hormone fluctuations, certain medications, and even stress. If left untreated, it can advance to periodontitis, a chronic inflammation of the gums.
RISKS:  Periodontal disease has been linked to many other inflammatory diseases, including cancers, heart diseases, respiratory diseases and diabetes.  With diabetes, the relationship is particularly complex: complications are more likely to increase for those with gum disease.  If you or a loved on has diabetes, regular dental visits are essential. Call us today to schedule checkups for you and your family.  Our aim is to catch and treat problems early- long before they become major health issues.
Categories:
Dental Implants, Bone Graft
Author:
Dr. Jay Ajmo
Date:
2015-05-11
Sometimes our patients have lost many teeth and waited quite some time to place dental implants.  Without your natural teeth, or implants in place, your jaw bone can begin to deteriorate.  This leads to the face having a "sunken" appearance.  For these patients it is necessary for Dr. Ajmo to perform a bone graft in order to create enough bone in the jaw for the implants to fuse with.  Learn more about bone grafts in today's blog article.
OFFICE HOURS
Monday-Friday 9am - 5pm
Please feel free to give us a call or stop by anytime if you have a question or would like to schedule an appointment.
PGA Advanced Dentistry
Palm Beach Gardens Office
7100 Fairway Dr Ste 59
Palm Beach Gardens, FL 33418
561-627-8666