It's for Real- Protect Your Future With Dental Implants at Dr. Jay Ajmo's Palm Beach Gardens Office!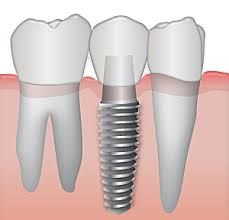 Dental implants, once considered the wave of the future, have become virtually routine in practices like ours with teams that have received special training.  Ideally, an implant should be placed immediately after losing even one tooth to protect you against receding bone and shifting teeth.  Even so, in the event that time has passed and bone loss occurred, modern techniques for bone regeneration make dental implants a viable option for many people. 
Implants can be used...
*to replace teeth lost by decay, gum disease or trauma once the jaw has stopped growing.
*to secure and prevent slipping of removable dentures and bridges.
There is little down time and while there are some procedural differences between placing cosmetic implants and those to anchor bridges or dentures, for best results we prefer to do it in stages...
First...
*We surgically place your implant or implants into the jawbone under your gumline.
And...
*We can attach temporary crowns so you won't be too shy to smile while you continue with your busy life.
Categories:
Osseointegration, Dental Implants
Author:
Dr. Jay Ajmo
Date:
2015-06-26
We get many questions about the reason it can take up to a few months for dental implants to heal.  Though there are full mouth procedures where you can leave with a brand new smile in one day (Teeth Next Day), many times the implantation of one or a few dental implants must "osseointegrate" with your jaw.  Osseointegration is the fusing of the implant with your jaw bone.
OFFICE HOURS
Monday-Friday 8am - 5pm
Please feel free to give us a call or stop by anytime if you have a question or would like to schedule an appointment.
PGA Dentistry
Palm Beach Gardens Office
7100 Fairway Dr Ste 59
Palm Beach Gardens, FL 33418