Teeth Next Day™ in North Palm Beach: New smile in just ONE day!
Are you suffering from failing dental work or bad teeth? If you've been living your life with unsightly dental decay or missing teeth, know that you don't have to suffer any longer. The Teeth Next Day™ solution enables you to smile with confidence and feel comfortable showing off your pearly whites.
Dozens of North Palm Beach patients have already received their new smile in just one day. This solution is designed to replace multiple missing or damaged teeth with just a single dental procedure called Teeth Next Day™.
Advantages of Teeth Next Day™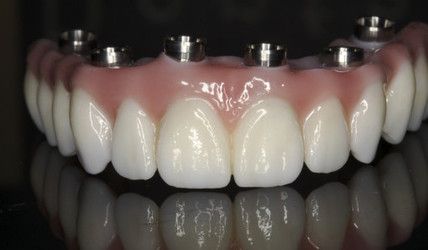 Teeth Next Day™ is a permanent solution for failing or missing teeth. This bridge is supported by implants placed in the jaw bone; these implants act like the roots of a natural tooth, providing a strong anchor for the dental bridgework. Attached to the dental implant, a zirconia dental bridge is used to replicate both the look and feel of the missing or damaged teeth.
Teeth Next Day™ Dental Bridge
Teeth Next Day™ is supported by a zirconia bridge and is one of the strongest and most advanced materials to use for dental implants. Most other implant-supported bridges are made of acrylic, which can chip or crack under the stress of chewing. In addition, acrylic can become discolored or stained over time. There is also a dark titanium component near the gumline which can create an unsightly metallic line. Zirconia, meanwhile, maintains its bright tooth-colored appearance and is strong enough to withstand many years of chewing forces, preserving the look and feel of your mouth for many years. Every zirconia implant can be custom-designed to match the shape and color of your natural teeth. This is the strongest, most durable way to replace missing teeth.
Next Day Dental Restoration
The Teeth Next Day™ procedure combines the latest technology with the comfort of sedation. The treatment is performed with top technologies like 3D CT scans to ensure for the most accurate implant placement and precise fit possible. We also use IV Sedation to ensure that our North Palm Beach patients are comfortable throughout the procedure. Even patients with dental anxiety or fears about going to the dentist can receive Teeth Next Day™.
After undergoing the Teeth Next Day™ treatment, you'll walk out with a smile that has been custom-designed to look closer to your real teeth than anything else. Full mouth reconstruction can restore your smile and dramatically change your outlook on life. If you've been putting off visiting the dentist, now is the time to seek the Teeth Next Day™ solutions so that you can chew comfortably and smile with confidence.
Categories:
Osseointegration, Dental Implants
Author:
Dr. Jay Ajmo
Date:
2015-06-26
We get many questions about the reason it can take up to a few months for dental implants to heal.  Though there are full mouth procedures where you can leave with a brand new smile in one day (Teeth Next Day), many times the implantation of one or a few dental implants must "osseointegrate" with your jaw.  Osseointegration is the fusing of the implant with your jaw bone.
OFFICE HOURS
Monday-Friday 8am - 5pm
Please feel free to give us a call or stop by anytime if you have a question or would like to schedule an appointment.
PGA Dentistry
Palm Beach Gardens Office
7100 Fairway Dr Ste 59
Palm Beach Gardens, FL 33418