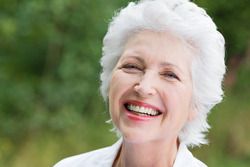 Your teeth can last a lifetime with good oral care, but changes in your overall health and mouth may require a fresh look at dental needs as you age. In addition to changes in your mouth as you get older, medications and health issues can affect oral health.
One concern is that, as we age, the nerves in the teeth can become smaller, making you less sensitive to the presence of a cavity or other problems. This makes regular visits with your dentist important to catch problems before damage sets in.
At the PGA Center for Advanced Dentistry in Palm Beach Gardens, we offer comprehensive dental care for seniors. Our cosmetic dentist can also answer questions about restoration work, including dental implants.
Specific dental health issues faced by seniors include:
Root caries (decay). When we age, gums may recede and expose roots. Roots lack the protective enamel found on teeth, making them prone to decay.
Sensitivity. Receding gums expose more sensitive parts of the tooth. These areas are prone to pain from hot or cold foods or beverages. They may also be sensitive to sweet and sour foods or drinks. Using toothpaste that addresses sensitivity may help, but a visit to your dentist may be in order to ensure a cavity isn't developing.
Dry mouth. This can be caused by medicine or medical disorders and is common in seniors. But if left untreated, it can lead to tooth damage. We can recommend products to help avoid problems.
Health issues. Some health conditions such as diabetes, heart disease, or cancer can affect your oral health and may require special steps during dental appointments. 
Dentures. Dentures improve your quality of life but require day-to-day care. Seniors should follow instructions carefully and have an annual checkup. Ill-fitting dentures or poor hygiene can lead to infections and bone loss.
Oral Cancer. Oral cancer is more common in people over 40. It may appear as red or white patches in your mouth. If sores do not heal within two weeks, you should talk to your dentist. Regular dental visits can alert you to signs of oral cancer.
Difficulty brushing and flossing. Arthritis may make brushing and flossing difficult. We can give you tips on overcoming these issues, such as wrapping a sponge around your toothbrush handle to make it easier to grip.
Thrush. Disease or drugs that affect the immune system can cause thrush, an infection of the mouth. It can appear as white lesions on your mouth, tongue, or cheeks. There are specific treatments for thrush.
Gum disease. Gum disease is important to avoid at any age, as it can lead to more serious conditions, including tooth loss. However, if caught early, gum disease is usually reversible. Good oral health habits are important: Brushing twice a day, flossing each day, and regular dental appointments.
Need Advice?
If you notice any of these problems or have a spouse or parent you are concerned about, please call for a consultation. We would be happy to go over your concerns.
Categories:
Osseointegration, Dental Implants
Author:
Dr. Jay Ajmo
Date:
2015-06-26
We get many questions about the reason it can take up to a few months for dental implants to heal.  Though there are full mouth procedures where you can leave with a brand new smile in one day (Teeth Next Day), many times the implantation of one or a few dental implants must "osseointegrate" with your jaw.  Osseointegration is the fusing of the implant with your jaw bone.
OFFICE HOURS
Monday-Friday 8am - 5pm
Please feel free to give us a call or stop by anytime if you have a question or would like to schedule an appointment.
PGA Dentistry
Palm Beach Gardens Office
7100 Fairway Dr Ste 59
Palm Beach Gardens, FL 33418