3 Restoration Options- One Delighted, Younger-Looking Smile!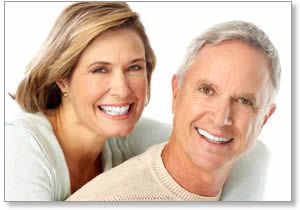 It's no secret that your smile plays a very important role in the impressions you make.  An attractive smile is engaging- it's one of your most meaningful non-verbal expressions- and it gives great pleasure to others!
There's no need to live one more minute with a smile you feel like hiding. A vibrant healthy-looking smile can make you look and feel years younger, and provide a great confidence boost.  Transform yourself with these 3 restoration options…
1.Veneers cover the front surface of teeth with attractive white porcelain, reinforcing them, perfecting their shape, hiding unsightly damage and correcting alignment and spacing.
2.Crowns fully encase teeth, becoming their beautiful, new outer surface. Crowns repair discolored, misshapen and damaged teeth, and when coupled with implants or bridges, they replace entire teeth.
3. Implants support one or more beautiful replacement teeth.  Not only do they fill in spaces, they actually help preserve jawbone structure so you can intercept that inevitable sunken look that accompanies tooth loss.
If you currently hide your smile, you're also hiding a warm inviting side of your personality.  Look years younger, feel more confident and open up to the world again with a beautifully restored smile!
Categories:
Dental Implants, Bone Graft
Author:
Dr. Jay Ajmo
Date:
2015-05-11
Sometimes our patients have lost many teeth and waited quite some time to place dental implants.  Without your natural teeth, or implants in place, your jaw bone can begin to deteriorate.  This leads to the face having a "sunken" appearance.  For these patients it is necessary for Dr. Ajmo to perform a bone graft in order to create enough bone in the jaw for the implants to fuse with.  Learn more about bone grafts in today's blog article.
OFFICE HOURS
Monday-Friday 9am - 5pm
Please feel free to give us a call or stop by anytime if you have a question or would like to schedule an appointment.
PGA Advanced Dentistry
Palm Beach Gardens Office
7100 Fairway Dr Ste 59
Palm Beach Gardens, FL 33418
561-627-8666