Smile With Confidence and Broaden Your Career Horizons!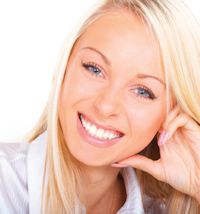 Your smile is your personal calling card. It can help or hinder our interactions.  Whether you're entering the workforce, climbing the corporate ladder or returning after a leave, a healthy confident smile can make you look and feel competent and accomplished. 
There are many options to improve your smile's impact-correcting imperfections, closing gaps and achieving a straighter-looking smile without braces.
*Bonding uses a budget-friendly tooth-colored resin to repair and reshape decayed, damaged or discolored teeth and even fills small spaces between teeth.
*Veneers cover the front surface of teeth to straighten, reshape and improve color with a beautiful layer of porcelain.
*Gum Sculpting evens out gumlines by exposing more of the tooth crown, making a previously gummy smile gorgeous.
*Bridges, coupled with crowns, replace missing teeth with attractive replacements.
*Implants serve as anchors for beautiful replacement crowns.
No matter your budget, there are many great options to help perfect your smile.  And if you need a quick and affordable pick-me-up for a special meeting, a professional cleaning or whitening will brighten your teeth, boost your confidence and help you make a winning impression!
Categories:
Dental Implants, Bone Graft
Author:
Dr. Jay Ajmo
Date:
2015-05-11
Sometimes our patients have lost many teeth and waited quite some time to place dental implants.  Without your natural teeth, or implants in place, your jaw bone can begin to deteriorate.  This leads to the face having a "sunken" appearance.  For these patients it is necessary for Dr. Ajmo to perform a bone graft in order to create enough bone in the jaw for the implants to fuse with.  Learn more about bone grafts in today's blog article.
OFFICE HOURS
Monday-Friday 9am - 5pm
Please feel free to give us a call or stop by anytime if you have a question or would like to schedule an appointment.
PGA Advanced Dentistry
Palm Beach Gardens Office
7100 Fairway Dr Ste 59
Palm Beach Gardens, FL 33418
561-627-8666