CT Guided Implants- Preplanning Dental Implant Surgery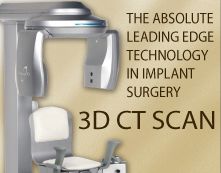 Our office is continually investigating new techniques and technologies that will assist in making patient care even more accurate, effective and comfortable.  One such advancement we are excited to share with you is CT Guided Implant Surgery.
As you know, the implant placement process takes time and careful planning, which use to involve multiple appointments for your patients.  However, now using CT Guided Implant Surgery we can actually plan exactly how the procedure will be carried out.  We will take a CT scan of the patient's mouth and then use advanced computer software to plan out the placement procedure.  We can develop the entire step-by-step treatment before the surgery date and without needing the patient present.  Once the treatment plan is agreed on, a surgical guide will be custom created to ensure implants are placed in the exact locations outlined in the plan.  CT Guided Implant Surgery is suitable for one implant to full mouth rehabilitation and the patient will experience a shorter operation time, predictable results and faster recovery times.
By pre-planning the implant placement, we can share the plan with you, as the patient's regular dentist, well before the procedure takes place.  So you can be more involved in all aspects of your patient's care- which is ideal.
We will continue to investigate techniques like CT Guided Implant Surgery, which provides unparalleled benefits to patients, referring dentists and us. 
Categories:
Osseointegration, Dental Implants
Author:
Dr. Jay Ajmo
Date:
2015-06-26
We get many questions about the reason it can take up to a few months for dental implants to heal.  Though there are full mouth procedures where you can leave with a brand new smile in one day (Teeth Next Day), many times the implantation of one or a few dental implants must "osseointegrate" with your jaw.  Osseointegration is the fusing of the implant with your jaw bone.
OFFICE HOURS
Monday-Friday 8am - 5pm
Please feel free to give us a call or stop by anytime if you have a question or would like to schedule an appointment.
PGA Dentistry
Palm Beach Gardens Office
7100 Fairway Dr Ste 59
Palm Beach Gardens, FL 33418