Get the All-Generation Restoration- Crowns & Bridges Go the Distance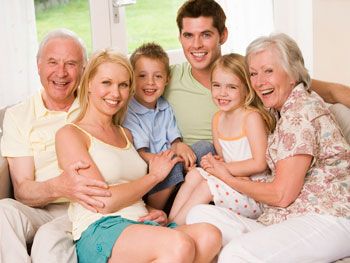 Whether young, old or somewhere in between, things do happen that can damage your smile.  Probably the most devastating to appearance, self-esteem and lifestyle, is the loss of teeth.  Whether caused by sports injuries, wear and tear, or gum disease, missing teeth do need to be replaced to prevent a myriad of other issues down the road.
The good news is that modern crowns and bridges look, feel and function just like natural teeth.  They're durable and easy to care for, plus they're definitely more attractive than gaps in your smile!
Benefits of crowns- Shaped and colored like natural teeth, crowns cover decayed or damaged teeth or replace lost teeth.  When secured by an implant, jawbone loss (which occurs when teeth are lost) is arrested.
Benefits of bridges-  Usually attached to your existing teeth, bridges support the replacement of one or more missing teeth with beautiful and durable artificial teeth.  They alleviate stress in your bite and prevent shifting of teeth adjacent to the gap.
No matter what your age, crowns and bridges can improve your quality of life.  They restore your natural bite, preserve the shape of your face, make you look and feel attractive and allow you to enjoy all the food and activities you love!  Call us today and let's discuss what's best for you!
Categories:
Osseointegration, Dental Implants
Author:
Dr. Jay Ajmo
Date:
2015-06-26
We get many questions about the reason it can take up to a few months for dental implants to heal.  Though there are full mouth procedures where you can leave with a brand new smile in one day (Teeth Next Day), many times the implantation of one or a few dental implants must "osseointegrate" with your jaw.  Osseointegration is the fusing of the implant with your jaw bone.
OFFICE HOURS
Monday-Friday 8am - 5pm
Please feel free to give us a call or stop by anytime if you have a question or would like to schedule an appointment.
PGA Dentistry
Palm Beach Gardens Office
7100 Fairway Dr Ste 59
Palm Beach Gardens, FL 33418