Lovin' the Limelight & Keeping Your Balance!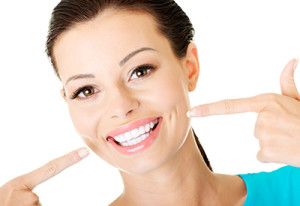 Is it a coincidence that even the ordinary people on reality shows have great smiles? Seems unlikely…just ask the casting directors!  True, looking good can thrust you into the limelight, yet it takes more than white even straight teeth to give you your best smile.  Consider proportion, balance and symmetry.  If these are missing from your smile, it might be that your gums need some attention.
Here are some problems we see all the time, along with time-tested solutions that provide beautiful and predictable results…
Too much gum tissue and too small teeth- Removing the excess gum tissue to reveal more tooth can make a great difference!  This is called gum contouring, gum recontouring, a gum lift or crown lengthening.
Teeth that look different lengths- Recontouring can also even out an irregular gumline that makes teeth appear to be different lengths.
Gum recession, exposed roots and too long teeth- Root-coverage procedures or natural-looking veneers can restore proportion and help prevent root caries.
Distracting red puffy gums- Gum disease is treatable, so you can prevent the prematurely ageing look of tooth loss and jawbone loss and consider cosmetic treatment options.
Give us a call if you avoid smiling for any of these reasons.  We can help you!
Categories:
Osseointegration, Dental Implants
Author:
Dr. Jay Ajmo
Date:
2015-06-26
We get many questions about the reason it can take up to a few months for dental implants to heal.  Though there are full mouth procedures where you can leave with a brand new smile in one day (Teeth Next Day), many times the implantation of one or a few dental implants must "osseointegrate" with your jaw.  Osseointegration is the fusing of the implant with your jaw bone.
OFFICE HOURS
Monday-Friday 8am - 5pm
Please feel free to give us a call or stop by anytime if you have a question or would like to schedule an appointment.
PGA Dentistry
Palm Beach Gardens Office
7100 Fairway Dr Ste 59
Palm Beach Gardens, FL 33418