The Right Restoration- What's the best option for your smile?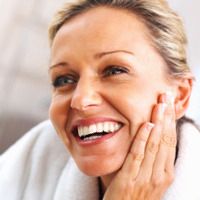 If you require restorative dentistry, rest assured that modern techniques and materials look fantastic, are effective and endurable and are perfect for today's active lifestyles.
The following options combine beauty, strength, and practicality to give you a happy, healthy and younger smile!
Crowns: How can they help? Crowns cover damaged or compromised teeth, strengthening them and giving them a more pleasing shape and color.  They can even improve your bite.
Bridges: How can they help? Permanent bridges replace one or more missing teeth with durable and attractive natural-looking artificial teeth.  They also help to preserve the shape of your face, alleviate stress in your bite and give you a more pleasing smile.
Implants: How can they help?  Implants are artificial roots which serve as permanent anchors for individual replacement teeth.  They help prevent bone loss in the jaw and promote a younger-looking smile by preserving the integrity of your facial structure.
Restorative dentistry has come a long way.  Your overall quality of life can be enhanced by replacement teeth that look, feel and function just like your natural teeth.  Whether for esthetic or health reasons, there are options for you.  Make an appointment today and let's discuss what's best for you!
Categories:
Osseointegration, Dental Implants
Author:
Dr. Jay Ajmo
Date:
2015-06-26
We get many questions about the reason it can take up to a few months for dental implants to heal.  Though there are full mouth procedures where you can leave with a brand new smile in one day (Teeth Next Day), many times the implantation of one or a few dental implants must "osseointegrate" with your jaw.  Osseointegration is the fusing of the implant with your jaw bone.
OFFICE HOURS
Monday-Friday 8am - 5pm
Please feel free to give us a call or stop by anytime if you have a question or would like to schedule an appointment.
PGA Dentistry
Palm Beach Gardens Office
7100 Fairway Dr Ste 59
Palm Beach Gardens, FL 33418