A Beaming White Smile- Show Them You're Beautiful Inside and Out!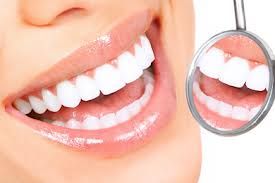 The way we dress and present ourselves says a lot about who we are, so we need to stay true to ourselves when we define our look.  Beauty starts from the inside, and when we feel great, we project our confidence and optimism.  Whatever we're wearing- including our smile- should reflect that positive energy.  But what if your smile isn't beaming its brightest? We have solutions!
Supervised whitening, including dentist- prescribed home systems and in-office treatments, are customized for your unique smile and can make your natural teeth look their whitest.
Bonding covers teeth with a beautiful white resin, reshaping them, fixing chips and filling gaps.
Porcelain Veneers cover the front surfaces of teeth, cleverly masking any stains, fillings and chipped or uneven teeth.
White fillings are an attractive alternative and an option to replace unattractive silver-colored fillings.
Inlays & Onlays repair teeth that have been damaged due to decay, strengthen teeth and restore structure and color.
A confident, white healthy-looking smile will help you feel positive and look your very best.  Give us a call today to discuss the best way to brighten your smile…and look as beautiful on the outside as you feel on the inside!
Categories:
Osseointegration, Dental Implants
Author:
Dr. Jay Ajmo
Date:
2015-06-26
We get many questions about the reason it can take up to a few months for dental implants to heal.  Though there are full mouth procedures where you can leave with a brand new smile in one day (Teeth Next Day), many times the implantation of one or a few dental implants must "osseointegrate" with your jaw.  Osseointegration is the fusing of the implant with your jaw bone.
OFFICE HOURS
Monday-Friday 8am - 5pm
Please feel free to give us a call or stop by anytime if you have a question or would like to schedule an appointment.
PGA Dentistry
Palm Beach Gardens Office
7100 Fairway Dr Ste 59
Palm Beach Gardens, FL 33418