Like A Force of Nature! 3 Ways to Crown Your Day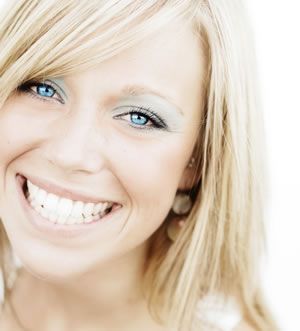 Why is it that these days you can't tell whether someone's terrific smile is a gift of nature or has been revitalized by dentistry? It's because fabulous restorative materials like porcelains and ceramics create crowns that are so beautiful and translucent that they look just like natural enamel.  They also resist chipping, staining and cracks and are strong enough to withstand natural biting pressure.
*Cover damaged teeth to protect and strengthen them.
*Fill spaces from tooth loss due to decay, genetics or an accident.  This option prevents other teeth from drifting and altering your ability to chew, speak and socialize.
*Create a permanent new tooth by incorporating a single crown onto the root of a dental implant.  Several crowns can be attached to an implant bridge and implants can also be used to secure a denture.  Dentures are more secure and comfortable and the bone loss that normally accompanies the loss of a tooth is prevented.
Contemporary natural-looking crowns used with dental implants and crown and bridge restorations can shine up your smile and re-generate your confidence!  Call to book a free consultation.
Categories:
Osseointegration, Dental Implants
Author:
Dr. Jay Ajmo
Date:
2015-06-26
We get many questions about the reason it can take up to a few months for dental implants to heal.  Though there are full mouth procedures where you can leave with a brand new smile in one day (Teeth Next Day), many times the implantation of one or a few dental implants must "osseointegrate" with your jaw.  Osseointegration is the fusing of the implant with your jaw bone.
OFFICE HOURS
Monday-Friday 8am - 5pm
Please feel free to give us a call or stop by anytime if you have a question or would like to schedule an appointment.
PGA Dentistry
Palm Beach Gardens Office
7100 Fairway Dr Ste 59
Palm Beach Gardens, FL 33418