A Smile Is For Life- How to Achieve Good Oral Health At Any Age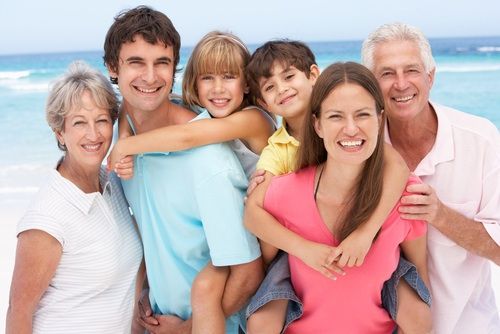 The key to good oral health? Prevention! Did you know that for every $1 you spend on oral care and prevention, you'll save an estimated $8-50 on future emergency and restorative procedures? Poor oral health is costly, not just from a dollar standpoint, but also in terms of quality of life, pain and suffering, lost productive time and even reduced life expectancy.
Consider these statistics:
Children: Kids with poor oral health are 3 times more likely to miss school because of dental pain.  Their absences are linked to poorer grades.
Teens: 20% of kids aged 12-19 years have untreated tooth decay which can lead to gum disease and tooth loss.
Adults: Gum disease increases three-fold in the 20s and nears 50% by the 50s.  Overall, approximately 75% of adults are affected by periodontal disease, which is also linked to diabetes, cancer, heart disease and more.
Seniors: Poor knowledge of preventive care, and even medications, may be to blame for the fact the 25% of people aged 65+ have lost all of their teeth.
A neglected smile can influence quality of life at any age and the simplest and most budget-friendly solution is prevention.  Regular checkups and cleaning, plus fluoride treatments, sealants and x-rays when warranted, can keep you smiling brightly for a lifetime!
Categories:
Dental Implants, Bone Graft
Author:
Dr. Jay Ajmo
Date:
2015-05-11
Sometimes our patients have lost many teeth and waited quite some time to place dental implants.  Without your natural teeth, or implants in place, your jaw bone can begin to deteriorate.  This leads to the face having a "sunken" appearance.  For these patients it is necessary for Dr. Ajmo to perform a bone graft in order to create enough bone in the jaw for the implants to fuse with.  Learn more about bone grafts in today's blog article.
OFFICE HOURS
Monday-Friday 9am - 5pm
Please feel free to give us a call or stop by anytime if you have a question or would like to schedule an appointment.
PGA Advanced Dentistry
Palm Beach Gardens Office
7100 Fairway Dr Ste 59
Palm Beach Gardens, FL 33418
561-627-8666