A Smile Is For Life- How to Achieve Good Oral Health At Any Age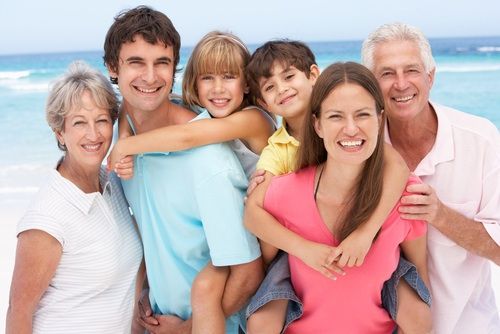 The key to good oral health? Prevention! Did you know that for every $1 you spend on oral care and prevention, you'll save an estimated $8-50 on future emergency and restorative procedures? Poor oral health is costly, not just from a dollar standpoint, but also in terms of quality of life, pain and suffering, lost productive time and even reduced life expectancy.
Consider these statistics:
Children: Kids with poor oral health are 3 times more likely to miss school because of dental pain.  Their absences are linked to poorer grades.
Teens: 20% of kids aged 12-19 years have untreated tooth decay which can lead to gum disease and tooth loss.
Adults: Gum disease increases three-fold in the 20s and nears 50% by the 50s.  Overall, approximately 75% of adults are affected by periodontal disease, which is also linked to diabetes, cancer, heart disease and more.
Seniors: Poor knowledge of preventive care, and even medications, may be to blame for the fact the 25% of people aged 65+ have lost all of their teeth.
A neglected smile can influence quality of life at any age and the simplest and most budget-friendly solution is prevention.  Regular checkups and cleaning, plus fluoride treatments, sealants and x-rays when warranted, can keep you smiling brightly for a lifetime!
Categories:
Osseointegration, Dental Implants
Author:
Dr. Jay Ajmo
Date:
2015-06-26
We get many questions about the reason it can take up to a few months for dental implants to heal.  Though there are full mouth procedures where you can leave with a brand new smile in one day (Teeth Next Day), many times the implantation of one or a few dental implants must "osseointegrate" with your jaw.  Osseointegration is the fusing of the implant with your jaw bone.
OFFICE HOURS
Monday-Friday 8am - 5pm
Please feel free to give us a call or stop by anytime if you have a question or would like to schedule an appointment.
PGA Dentistry
Palm Beach Gardens Office
7100 Fairway Dr Ste 59
Palm Beach Gardens, FL 33418