Porcelain Veneers as Instant Orthodontics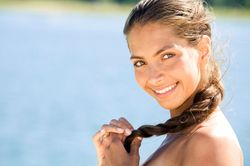 If you've always wanted straighter teeth, instant orthodontics may be right for you! Palm Beach Gardens cosmetic dentist Jay L. Ajmo uses porcelain veneers as instant orthodontics to dramatically improve smiles in as little as two dental visits.
How Are Porcelain Veneers Used As Instant Orthodontics?
Porcelain veneers are custom crafted tooth-shaped shells. They are designed to fit over the front surface of the teeth to hide flaws, brighten the teeth, and improve the shape and proportions of the teeth. When used as instant orthodontics, porcelain veneers are fitted in such a way to create even, straight appearing teeth.
Instant orthodontics treatment begins with a consultation and thorough dental examination. During this consultation, the desired results will be discussed, including porcelain veneer shade and shape. Once a treatment plan is decided upon, impressions will be made of the teeth and the teeth will be prepared for veneer placement. The porcelain veneers will be custom made in a dental lab using impressions of the teeth. When ready, the veneers will be bonded to the teeth to complete the instant orthodontics treatment.
Why Choose Instant Orthodontics Over Traditional Orthodontics?
Instant orthodontics treatment using porcelain veneers is a wonderful alternative to traditional orthodontics. Instant orthodontics offer amazing results in a fraction of the time required with metal braces. Here are just a few of the many benefits instant orthodontics patients can expect to experience.
Convenience: Instant orthodontics treatment using porcelain veneers can be completed in as little as two dental visits, making treatment convenient for patients with busy schedules. Traditional orthodontics require monthly dental visits and may take over a full year to reach the desired results.
Comfort: The porcelain veneer procedure is virtually painless and once in place, the veneers will feel like your own teeth. Metal braces, on the other hand, can be very uncomfortable and leave the inside of the mouth sore and irritated.
Fast: Instant orthodontics treatment is just that - instant! Instant orthodontics treatment using porcelain veneers can completely transform your smile in as little as two dental visits.
Easy After Care: Porcelain veneers are far easier to care for than traditional orthodontics. Once the veneers are in place, they can be cared for the same way as natural teeth, whereas metal braces require special cleaning and care.
No Embarrassing Metal Braces: Instant orthodontics using porcelain veneers allows you to skip the embarrassment of metal braces. Instant orthodontics lets you have the gorgeous smile of your dreams without the pain and embarrassment of unsightly metal braces.
Better Smile: Instant orthodontics using porcelain veneers can be used to not only improve the alignment of the teeth, but also the overall appearance, unlike traditional braces. In addition to creating a straight, even look, veneers can also be used to correct the shape, shade, and size of the teeth.
Schedule a Consultation with Dr. Ajmo
You can have the smile you've always wanted with the convenience and comfort of instant orthodontics. To see if instant orthodontics treatment using porcelain veneers is right for you, we welcome you to schedule a consultation with Dr. Ajmo today!
Categories:
Osseointegration, Dental Implants
Author:
Dr. Jay Ajmo
Date:
2015-06-26
We get many questions about the reason it can take up to a few months for dental implants to heal.  Though there are full mouth procedures where you can leave with a brand new smile in one day (Teeth Next Day), many times the implantation of one or a few dental implants must "osseointegrate" with your jaw.  Osseointegration is the fusing of the implant with your jaw bone.
OFFICE HOURS
Monday-Friday 8am - 5pm
Please feel free to give us a call or stop by anytime if you have a question or would like to schedule an appointment.
PGA Dentistry
Palm Beach Gardens Office
7100 Fairway Dr Ste 59
Palm Beach Gardens, FL 33418