Reinforce the Power of Your Smile- Part of Smart Ageing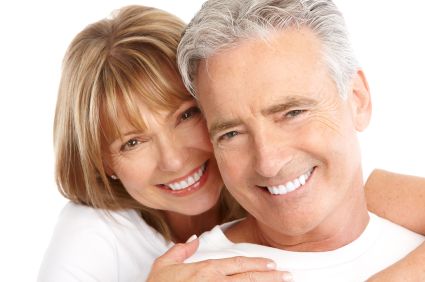 Good for you!  You're taking better care of yourself so that as you age, you remain in optimum health.  You're using the stairs (not the elevator), protecting your skin and ramping up the fiber, fruits and vegetables in your diet.  Now think about this: if you live longer, your teeth have to function longer too!
Now is the time to consult with us about the benefits of not just rejuvenating the whiteness in your smile, but also the structure and durability of your teeth.  Missing or damaged teeth severely compromise your capacity to chew and digest healthy foods….negatively affecting your overall health.  Not to worry…We have solutions!
·          One option is a bridge. It replaces a missing tooth by securing a new replacement tooth to the adjacent healthy teeth.  Bridges look natural, are easy to clean and because they're fixed in place, they're stable.
·         A crown completely covers of "caps" an existing tooth that has a serviceable root but is damaged above the gumline.  It improves the tooth's strength and appearance and extends its lifetime.
As part of our healthy lifestyle team, we will advise you on the best, most cost-effective way to improve your smile.  Dental enhancements like bridges and crown are a great self-investment.  You'll look terrific, enjoy a confident smile and situate yourself wisely to benefit wholly in both oral and overall health!
Categories:
Osseointegration, Dental Implants
Author:
Dr. Jay Ajmo
Date:
2015-06-26
We get many questions about the reason it can take up to a few months for dental implants to heal.  Though there are full mouth procedures where you can leave with a brand new smile in one day (Teeth Next Day), many times the implantation of one or a few dental implants must "osseointegrate" with your jaw.  Osseointegration is the fusing of the implant with your jaw bone.
OFFICE HOURS
Monday-Friday 8am - 5pm
Please feel free to give us a call or stop by anytime if you have a question or would like to schedule an appointment.
PGA Dentistry
Palm Beach Gardens Office
7100 Fairway Dr Ste 59
Palm Beach Gardens, FL 33418