A Face-Saving Option- Consider Permanent Dental Implants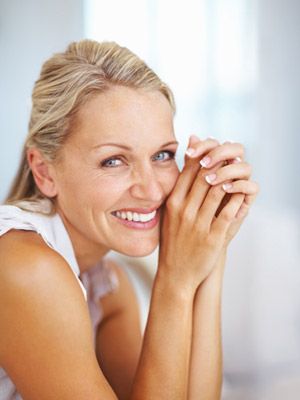 Let's face it- all mature adults experience the effect of gravity and a life well-lived on their appearance.  Though when teeth are missing, the bite and facial structure can alter, exaggerating signs of normal ageing and creating a sunken aged appearance.  You may be surprised to learn that dental implants, which were invented as a permanent way to replace teeth and to avoid bone loss, actually have a cosmetic benefit and can even prevent the need for a surgical facelift.
Implants have two parts: a root made of biocompatible metal and a custom-made enamel tooth crown which is attached to it.  Here's how they can help save your oral health and appearance…
*Immediate placement after tooth loss can save supporting bone, adjacent teeth, and your great looking smile.
*Implants can be an attractive alternative to a denture or bridge.
*An implant-supported bridge can be used when more than one tooth is missing to provide greater stability and save underlying bone.
 *An implant-supported denture can solve the problems of eating, speaking, and socializing associated with wobbly fitting dentures and permanently removes the need for adhesives.
We are committed to helping you prevent tooth loss, but when the need arises, we'll be happy to discuss whether implants are a suitable option for you.  Not only can they save your looks- they look and feel natural too!
Categories:
Dental Implants, Bone Graft
Author:
Dr. Jay Ajmo
Date:
2015-05-11
Sometimes our patients have lost many teeth and waited quite some time to place dental implants.  Without your natural teeth, or implants in place, your jaw bone can begin to deteriorate.  This leads to the face having a "sunken" appearance.  For these patients it is necessary for Dr. Ajmo to perform a bone graft in order to create enough bone in the jaw for the implants to fuse with.  Learn more about bone grafts in today's blog article.
OFFICE HOURS
Monday-Friday 9am - 5pm
Please feel free to give us a call or stop by anytime if you have a question or would like to schedule an appointment.
PGA Advanced Dentistry
Palm Beach Gardens Office
7100 Fairway Dr Ste 59
Palm Beach Gardens, FL 33418
561-627-8666